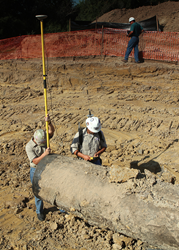 "The safety training is a valuable experience each year. I'm also eager to return to the tradeshow and feature Fenstermaker's diverse capabilities, comprehensive services and latest technologies for pipeline projects from Booth #9."- Steve Leblanc
(PRWEB) July 16, 2014
Fenstermaker's chief experts in pipeline, energy and regulatory services are gearing up to attend the annual Pipeline Safety Conference later this month in New Orleans, Louisiana. Steve Leblanc, the company's Pipeline Market Leader, will be joined by John Fenstermaker, Vice President of Survey, and Jane Fournet, Environmental Operation Leader, in support of the Louisiana Gas Association (LGA), a nonprofit organization and event host. Committed to promoting and educating proper precautions when handling natural gases, the Pipeline Safety Conference has become an increasingly prominent event within the industry. This year's event will feature panels on hazardous liquids, gas transmission and gas distribution.
Mr. Leblanc, a veteran pipeline specialist, considers the convention a regular in his line-up and looks forward to visiting with industry leaders. In anticipation of the scheduled activities unfolding from July 21-25, he reflects, "The safety conference is always a valuable experience, since it examines all pipeline regulations involving both gas and liquids. In particular, regulations CFR 49-192 gas and 195 liquids will be covered extensively. I'm also eager to return to the conference and present Fenstermaker's diverse capabilities, comprehensive services and latest technologies for pipeline projects."
Recognizing that the most effective solutions require innovative, inclusive approaches, Mr. Leblanc credits the efficient collaboration among Fenstermaker teams across multiple disciplines as a major advantage in raising quality standards. He notes, "Two colleagues, both accomplished professionals in their respective fields of survey and environmental, will accompany me in representing Fenstermaker. Their presence and versatile skills further emphasizes the company's collective experience and inclusive knowledge of the energy market. We welcome old friends and fellow attendees to visit us at Booth #9 and discuss current trends and developments within the pipeline community.
Presented by the U.S. Department of Transportation's Pipeline and Hazardous Materials Safety Administration (PHMSA)—Office of Training and Qualifications, this year's conference provides training co-sponsored by the following government agencies and organizations. Visit LGA's 2014 Pipeline Conference webpage for additional details and the official agenda.

Alabama Public Service Commission
Arkansas Oil and Gas Commission
Arkansas Public Service Commission
Louisiana Department of Natural Resources
Louisiana Gas Association
Mississippi Public Service Commission
New Mexico Public Regulation Commission
Texas Railroad Commission
Fenstermaker is a multi-disciplinary firm specializing in Survey & Mapping, Engineering, Environmental Consulting, and Advanced Technologies. We have over 300 team members providing professional services through multiple office and field locations across the U.S. Our company mission is to be a vital partner in the success of our clients.