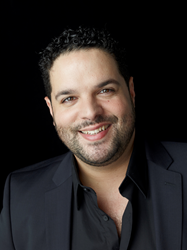 Orlando, FL (PRWEB) July 16, 2014
World-renowned tenor and "America's Got Talent" finalist Fernando Varela is set to embark on a nationwide solo tour kicking off this fall. Beginning in Centralia, Washington in early September and concluding in Biloxi, Mississippi in mid-November, Varela's tour will cover cities coast-to-coast and be open for public audiences to enjoy in each city. Varela will sing across various musical genres in each unforgettable show.
"This tour has been a long-time coming, and I cannot wait to get things started," says Varela. "The past year has been an exciting whirlwind, and I have been so fortunate to gain fans across the nation. Now, I can visit all these loyal supporters and hopefully make some new fans singing both tunes that everyone can enjoy and identify with, plus new music that I hope will soon become everyone's favorites. I look forward to visiting all these incredible cities and sharing the gift that I love to give the most… music."
Coming off his amazing climb on NBC's #1 summer show "America's Got Talent" last summer, Varela has kept a red hot pace over the past year highlighted by debut performances with the National Symphony Orchestra at The Kennedy Center for the Performing Arts in Washington, D.C., Carnegie Hall and Radio City Music Hall in New York City and singing for President Barack Obama at The White House. Varela has drawn critical acclaim while touring the world both on his own and with music legend David Foster. Over the course of his career, he has performed in over 16 fully staged operas, hundreds of concerts and in 31 countries around the world. In 2008, Varela recorded his first album Dare to Live, followed by the release of two studio albums in 2012, Prelude and Inspiration. He is currently working on a new album which will feature mostly original music.
"Fernando is a great talent," says Manager Paul Mascioli. "His heart surrounds each song that he performs. His charisma warmly embraces his audiences. His music uplifts the soul - and an evening spent listening to him becomes a very memorable experience."
Tour dates and cities include:
9/6/2014 Centralia, WA
9/7/2014 Everett, WA
9/9/2014 Wenatchee, WA
9/11/2014 Grants Pass, OR
9/12/2014 Crescent City, CA
9/14/2014 Folsom, CA
9/15/2014 Oroville, CA
9/17/2014 San Diego, CA
9/19/2014 Rancho Santa Fe, CA
9/21/2014 Victorville, CA
9/22/2014 Bishop, CA
9/26/2014 Midland, TX
9/28/2014 El Paso, TX
9/30/2014 Markham. ON
10/1/2014 Bramptin, ON
10/2/2014 Toronto, ON
10/4/2014 Timmins, ON
10/6/2014 Sioux Falls, SD
10/7/2014 Marshalltown, IA
10/11/2014 Bedford, IN
10/13/2014 Bryan, OH
10/14/2014 Marysville, OH
10/15/2014 Beaver Falls, PA
10/16/2014 Lewistown, PA
10/19/2014 Lebanon, PA
10/20/2014 Lanacaster, PA
10/21/2014 Courtland, VA
10/23/2014 Westminster, MD
10/24/2014 Henderson, NC
10/25/2014 Statesville, NC
10/28/2014 Bluefield, WV
11/2/2014 Charleston, WV
11/6/2014 Great Bend, KS
11/7/2014 El Dorado, KS
11/9/2014 Bentonville, AR
11/10/2014 Greenville, TX
11/11/2014 Kilgore, TX
11/13/2014 Biloxi, MS
For a list of city concert locations, information to purchase tickets in your city and for more information on Fernando Varela, visit http://www.fernandovarela.com.
###
MEDIA CONTACT: Ilene Lieber, 321-277-7812, ilene(at)passionprconsulting(dot)com