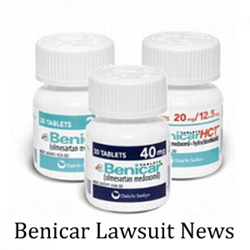 If you or a loved one has experienced Benicar side-effects such as Gastrointestinal Disorder or Enteropathy contact Wright & Schulte LLC for a free legal consultation by calling 1-800-399-0795 or visit www.yourlegalhelp.com
Columbus, OH (PRWEB) July 19, 2014
A Benicar lawsuit webpage has been launched by Wright & Schulte LLC to provide consumers with important information regarding a serious gastrointestinal disorder called sprue-like enteropathy that can sometimes accompany use of the high blood pressure medication. The new Benicar lawsuit webpage will also be updated on a regular basis with information about the growing Benicar litigation in U.S. courts. Wright & Schulte LLC is now offering free legal evaluations to anyone who may have experienced serious gastrointestinal problems while using Benicar, including:

Chronic diarrhea
Severe, rapid weight loss
Dehydration
Vomiting
•Inflammation of the intestines
Benicar, known generically as olmesartan, was brought to market by Daiichi Sankyo in 2002. It is one of a class of high blood pressure medications known as angiotensin receptor blockers, or ARBS. In 2012, a study published in Mayo Clinic Proceedings reported that a number of patients using olmesartan had developed gastrointestinal problems similar to those associated with celiac disease. The symptoms disappeared once the patients had stopped using the medication, which strongly suggested a link between olmesartan and their problems.
[mayoclinicproceedings.org/article/S0025-6196%2812%2900558-7/fulltext, Mayo Clinic Proceedings, June 2012]
A little more than a year later, the FDA issued a public health alert stating that it there was "clear evidence of an association between olmesartan" and the development of sprue-like enteropathy. The agency ordered the manufacturers of Benicar and other forms of olmesartan, including Benicar HCT, Azor, and Tribenzor, to modify the product labels to include information about this potential side effect. The FDA also advised doctors to discontinue treatment with olmesartan in patients who exhibited symptoms of sprue-like enteropathy.
[fda.gov/drugs/drugsafety/ucm359477.htm, FDA, July 2013]
Since the FDA issued its alert last July, a growing number of Benicar lawsuits have been filed in U.S. courts on behalf of patients who allegedly developed sprue-like enteropathy due to the medication. This past March, for example, a Texas man filed a Benicar lawsuit in New Jersey's Atlantic County Superior Court, alleging his use of the medication caused chronic diarrhea, dehydration, weight loss, nausea, vomiting and malnutrition over a period of several years. Because his doctors were unaware of the association between Benicar and severe gastrointestinal problems, the plaintiff was hospitalized for more than 100 days over a four year period, as his health care providers tried to determine the cause of his problems. (Docket No. Docket No. ATL-L-506-14)
The attorneys of Wright & Schulte LLC believe that additional Benicar lawsuits involving similar allegations will be filed against the manufacturer of this medication in the coming months. The Firm is offering free, no-obligation legal reviews to anyone who suffered severe gastrointestinal problems that may be associated with Benicar. To learn more, or to arrange for a free legal consultation with an attorney at Wright & Schulte LLC, please visit yourlegalhelp.com.
About Wright & Schulte LLC
Wright & Schulte LLC, an experienced personal injury firm, is dedicated to the belief that America's legal system should work for the people. Every day, the attorneys of Wright & Schulte LLC stand up for the rights of people who have been injured or wronged and fight tirelessly to ensure that even the world's most powerful corporations take responsibility for their actions. If you're looking for a law firm that will guarantee the aggressive and personal representation you deserve, please do not hesitate to contact Wright & Schulte LLC today. Free Benicar lawsuit case evaluations are available through yourlegalhelp.com or by calling 1-800-399-0795.
Contact:
Wright & Schulte LLC
812 East National Road
Vandalia, Ohio 45377
1-800-399-0795
http://www.yourlegalhelp.com
Like us on Facebook
Follow us on Twitter
Join us on Google+