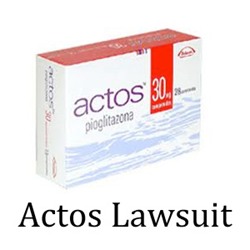 If you believe you have developed bladder cancer or other side-effects from taking Actos contact Wright & Schulte LLC for a free legal consultation by calling 1-800-399-0795 or visit www.yourlegalhelp.com
Columbus, OH (PRWEB) July 21, 2014
The defective drug attorneys at Wright & Schulte LLC have filed an Actos lawsuit on behalf of a Schenectady, New York man who alleges that he developed bladder cancer as a result of taking Actos for more than a year to treat his Type II diabetes. According to the Actos lawsuit, the New York man's doctor prescribed Actos in September 2003, and in 2010 he was diagnosed with bladder cancer. The lawsuit also contends, that as a result of taking the diabetes medication, the man suffered permanent and severe injuries, including having to undergo multiple surgeries and the removal of one of his kidneys. This Actos bladder cancer lawsuit was filed in the Circuit Court of Cook County, Illinois, on June 12, 2014 (Case No. 2014-L-006265)
In addition to the New York man, the attorneys at Wright & Schulte LLC are currently representing other clients in pending Actos lawsuits, and are currently offering free case evaluations to people who believe they have experienced serious side-effects caused by Actos or other harmful prescription drugs. To speak with an experienced defective drug attorney contact Wright & Schulte LLC by calling 1-800-399-0795 or visit http://www.yourlegalhelp.com. You can also like us on Facebook and Follow us on Twitter for all the current news on Actos and other drug side-effects.
Wright & Schulte further contends in this Actos lawsuit that the defendant, Takedea Pharmaceuticals America Inc., knew that taking the prescription medication can cause bladder cancer but did not adequately inform doctors and patients about the potential risk of developing bladder cancer after taking Actos. The Actos bladder cancer complaint further purports that as one of Takeda's top selling drugs, Actos had global sales of $4.8 billion within the last year and accounted for approximately 27 percent of Takeda's revenue.
The American Diabetes Association in 2011 published a study that examined the link between Actos, generically known as pioglitazone, and the risk of bladder cancer. The study compared patients treated with pioglitazone with patients who did not use pioglitazone. Researchers found an increased risk of cancer in patients who used pioglitazone for more than two years. Additionally, the study noted that 95 percent of the diagnosed cancers among pioglitazone users were detected at an early stage. A post hoc analysis suggests further increased risk of bladder cancer with even longer periods of exposure to pioglitazone.
[care.diabetesjournals.org/content/34/4/916.full, April 2011]
After the study was published, the U.S. Food & Drug Administration (FDA), issued a warning about Actos, which was approved in 1999 to treat Type II diabetes. The FDA warned in June 2011 that using Actos for more than one year may be associated with an increased risk of bladder cancer. The federal regulator also mentioned reviewing a study conducted in France that focused on 1.5 million patients with diabetes who were followed from 2006 to 2009. The results showed a statistically significant increase in the risk for bladder cancer in males who took pioglitazone compared to other patients exposed to other anti-diabetic drugs. As a result of the study, the FDA noted that sales of Actos was suspended in France and Germany recommended not to start new patients on pioglitazone. Sales of the diabetic medication were not suspended in the United States.
[fda.gov/drugs/drugsafety/ucm259150.htm, June 15, 2011]
[ema.europa.eu/docs/en_GB/document_library/Press_release/2011/06/WC500107515.pdf, June 9,2011]
In April of this year, a federal jury in Louisiana awarded $9 billion in punitive damages in Actos bladder cancer lawsuit, agreeing with the plaintiffs that the makers of Actos, Takeda Pharmaceuticals U.S.A. Inc. and Eli Lilly & Co. did not disclose the cancer risk associated with taking the medication and ordered Takeda to pay $6 billion and Lilly to pay $3 billion. The lawsuit against Takeda and Lilly was filed in the U.S. District Court for the Western District of Louisiana (case no. 11-md-02299). There are currently over 3,055 Actos lawsuit claims pending litigation in the U.S. District Court for the Western District of Louisiana (MDL 2299). All of the complaints filed on behalf of individuals who used Actos allege one or more serious side effects, including bladder cancer, heart failure and liver problems as a result of using the prescribed diabetic medication.
About Wright & Schulte LLC
Wright & Schulte LLC, an experienced personal injury firm, is dedicated to the belief that America's legal system should work for the people. Every day, the attorneys of Wright & Schulte LLC stand up for the rights of people who have been injured or wronged and fight tirelessly to ensure that even the world's most powerful corporations take responsibility for their actions. If you're looking for a law firm that will guarantee the aggressive and personal representation you deserve, please do not hesitate to contact Wright & Schulte LLC today. Free Actos lawsuit case evaluations and other harmful drug lawsuit evaluations are available through yourlegalhelp.com or by calling 1-800-399-0795.
Contact:
Wright & Schulte LLC
812 East National Road
Vandalia, Ohio 45377
1-800-399-0795
http://www.yourlegalhelp.com
Like us on Facebook
Follow us on Twitter
Join us on Google+