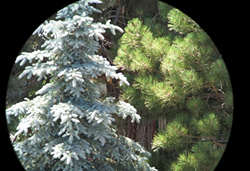 The accurate colors shown through ED glass lenses are particularly useful when it comes to spotting wildlife and identifying birds from subtle patterns and colorations.
Cheyenne, Wyoming (PRWEB) July 16, 2014
OutdoorGearLab, a growing website known for its rugged and thorough tests of outdoor equipment, just released an updated review of binoculars for 2014. This review updates one previously published in fall of 2013 and has newer models added to the selection. Included in this review are models from well respected brands such as Nikon, Swarovski, and Bushnell. These products were compared against one another and tested in the field while on hunting trips, boating trips, ski trips, and backpacking trips. Lead test editor, Stephanie Bennett, took the test models and passed them around to graduate students studying wildlife and brought them to the Leavenworth Spring Bird Festival in order to get a variety of opinions. Many different people with different levels of experience tested the adjustments and ease of use for each pair. Thirteen different models were scored on the metrics of magnification, clarity, adjustability, portability, and durability. Bennett gave the top performers awards in the categories of best overall, best value, and the best for specific applications.
And the winners are:
Nikon Monarch 7 10x30: Editors' Choice Award
This newer model takes the place of Bennett's 2013 winner, the Monarch 3. When compared to the Monarch 3, the 7 is much smaller and easier to fit in hand. This allows it to be more portable and also keeps the image stable even with a higher magnification power of 10x. Bennett explains that ometimes binoculars of this power magnify shakiness from a user's hand, but since the Monarch 7 is easy to hold, it magnifies well without the shakiness. Additionally, this pair has lenses constructed from Extra-low dispersion glass, which is designed to accurately focus different wavelengths of light. This results in crisper and brighter colors.
Nikon Trailblazer 8x25: Best Buy Award
The Trailblazer is a compact, reasonably priced pair that earns accolades from Bennett for high performance and great value. She notes that this pair is ideal for beginners because of the low cost and easy portability. Purchasing this pair is not committing, yet they still present a clear and stable image, especially for such a compact pair. Bennett recommends the trailblazer for backpackers and hikers who want a lightweight magnifier to fit inside a backpack.
Swarovski EL 10x32 Swarovision: Top Pick Award for Bird Watching
The Swarovski EL was the highest scoring pair in Bennett's review. A deluxe and high performing product, it did not win Editors' choice mainly due to its prohibitive cost, which is over $2500. Bennett notes that this pair, with its compact size, high magnification power, extreme clarity and color correctness through the use of ED glass, and included accessories, is top-of-the-line and will serve a user well if they are prepared to pay for it. Bennett found that the accurate colors shown through the lenses are particularly useful when it comes to spotting wildlife and identifying birds from subtle patterns and colorations.
Nikon Prostaff 7 10x42: Top Pick Award for Hunting
For hunters who need a clear view of wildlife and a pair that can be brought with them, the Prostaff 7 is an excellent choice. Bennett notes that the 10x magnifying power and portable size present a clear and stable image while the real-tree colored barrels allow the user to seamlessly blend in to his or her environment. This pair is durable and well-priced.
Bushnell H20 10x26: Top Pick Award for Boating
Trips on the water demand excellent durability, which is found in the waterproof Bushnell H20. Bennett praises the rubberized outer grip which ensures that they stay in the user's hand and that cushions them in the event of a drop or spill off the table when on rough water. For a small, compact pair, the H20 has a high magnifying power of 10x and presents a clear image.
To accompany her full review, Bennett compiled a buying guide complete with illustrative photos and diagrams to educate consumers on the technical aspects of binoculars. This guide has a glossary of terms and clearly walks a consumer through the decision making process of purchasing a a pair appropriate to his or her needs.
OutdoorGearLab, LLC is a respected review website based in Cheyenne, Wyoming. The company's aim is to solve purchasing decisions by creating the world's best outdoor gear reviews, using comparison as the secret ingredient. The website, http://www.outdoorgearlab.com, is a free resource for outdoors enthusiasts and athletes who engage in activities such as hiking, backpacking, camping, climbing, hunting, running, biking, and bird watching. The test team performs rigorous side-by-side tests of gear and writes up the results in clear and concise essays, illuminated with photos and diagrams. Each product is scored across a range of weighted metrics, competing models are ranked, and awards are given to the stand-out models in the test group. This analysis allows consumers to quickly and easily find the best possible product in the category they are shopping for.