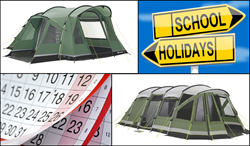 Camping offers a much better and fairer priced holiday.
(PRWEB UK) 18 July 2014
The debate over the legitimacy of parents taking their children out of school during the school term continues, with a recent petition requesting a cap to the seasonal percentage increases charged by holiday providers gaining well over 100,000 signatories, and being raised in parliament. The official response to the petition was that '...in a competitive market it is for business to decide the market worth of their products and to price accordingly.'
A Nationwide survey revealed this month that a third of parents take their kids out of school to save on holiday costs. This would mean that nearly half a million UK parents risk prosecution and minimum fines of £60 for an unauthorised absence, although courts could levy a fine of up to £2,500! Even without Michael Gove's continuing influence in Education, it seems little is likely to change in the near future.
A holiday should never be a stressful experience, and worldofcamping.co.uk have the solution to this conundrum. Camping, compared with package holidays or other typical tourist accommodation such as hotels, B&B and self-catering, sees relatively little difference in rates between peak season and low season, so camping holidays don't have the massive hike in prices that other holidays tend to see.
"As parents ourselves, we've seen the staggering increase in prices during holiday times when we've tried to book family holidays," said Clay Cowie of worldofcamping.co.uk.
Camping offers a much better and fairer priced holiday – campsites thrive on good weather, and since few holidaymakers are willing to risk the great outdoors in the winter, the warmer months are a time to encourage full occupancy.
"This is the perfect time to invest in a good family tent and some basic camping equipment. By investing in some quality gear once, families can feel the benefit over numerous trips and spread the cost of their holidays even further," said Clay.
"We recommend our great range of KingCamp sleeping bags, airbeds and self-inflating mats as amazing quality for a great price - in addition to our selection of tents and awnings from other top quality brands."
There are some beautiful place in the UK to experience, and camping staycations are just the ticket for families feeling the pinch. Camping is far from being the poor alternative to a typical holiday, with tents such as the Outwell Georgia 5P Tent, Outwell Rockwell 5 Tent or Vango Skye V 400 Tent providing large living spaces and comfortable interiors including carpets and storage pockets. Campers can take as much of the modern technological wolrd with them as they like; most campsites provide electrical hook-ups, so with a Triple Mobile Mains Camping Supply or a Mains Connection Lead, there's no reason to miss out on the luxuries of life.
worldofcamping.co.uk are based in Cornwall as an online UK retailer of tents, caravan awnings, and camping accessories. Whatever campers need to make their camping adventure complete, World of Camping have thought of it: from barbecues and bike racks to electric hook-ups, from water and waste containers to solar chargers, inflatable kayaks, cookware, portable toilets and toilet chemicals, roof boxes and torches, all at the most competitive rates online. World of Camping are dedicated to meeting the needs of the family when it comes to their holiday, and after a browse through their extensive range of equipment, camping fans will find a product to meet their requirements at the right price and with the best customer service.