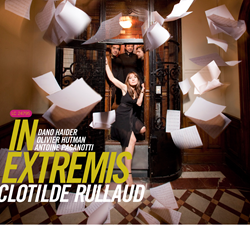 (PRWEB) July 16, 2014
MusicDish*China announced that it has booked Paris-based Jazz singer Clotilde Rullaud to OCT Shenzhen and OCT Guangzhou Jazz Festivals this October. Clotilde made her China debut this June 21st as part of Beijing Music Day (Fête de la Musique), headlining the main outdoor concert at Dos Kolegas and closing with a show at at the capital's renowned East Shore Live Jazz Cafe.
Clotilde will be performing at OCT Guangzhou on October 9th and OCT Shenzhen on October 12th. MusicDish*China will be booking additional shows around southern China. MusicDish*China has been representing Clotilde in China since January, developing her Chinese social media branding on popular sites such as weibo, douban and youku, combined with a media and marketing campaign. Her album "In Extremis" has also been digitally distributed in Greater China by MusicDish, including through China's most active music site xiami.
OCT Shenzhen is also called OCT-LOFT Jazz Festival. It has been held annually in OCT-LOFT in Shenzhen since 2011. The festival had been staging excellent musicians in different languages and colors all over the world for the last 3 years and it had also involved many jazz lovers. OCT Guangzhou Jazz Festival will be held in Fei Livehouse in Redtory, Guangzhou's Central Art District, for the first time this year.
French Jazz singer/performer/song-writer, coming from the new generation of French jazz musicians, she went into music school at the age of 5 and studied the flute and singing. Clotilde Rullaud's artistic approach stands at the crossroad of various musical influences. She blends together Latin, African, pop and jazz sounds, attesting to the wonderful melting pot that is jazz. Poetry and the inner music of words also hold a key place in her artistic world. Clotilde aims above all to challenge what can be done with song and with the voice in order to reach her full expression, escaping from standard configurations to express her love for freedom.
http://www.clotilderullaud.com
MusicDish*China serves as a bridge between East & West, working on events featuring award-winning Taiwanese acts in Paris and NYC since 2011 as well as providing distribution/marketing and touring tours in China for Western acts. MusicDish*China has partnered with key events, from Midi and Zebra festivals to the Sound of the Xity conference that, in combination with its social media presence, has given it a unique brand positioning in the market. MusicDish*China has signed Taiwanese acts DJ Code, RED, Bearbabes and mainland rock band Second Hand Rose for international development and management. Founder Eric de Fontenay has been quoted in media as diverse as FT China and China Daily to Portugal's DIF magazine, and was featured in The Beijingers' 2012 Music Issue.