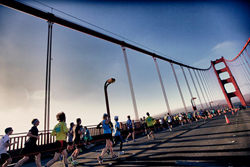 This historic race truly belongs to the local community.
San Francisco, California (PRWEB) July 17, 2014
On Sunday, July 27, more than 25,000 runners and thousands of spectators will take to city streets and landmarks on course for the 37th annual San Francisco Marathon(TSFM). Known as THE original San Francisco race event and the only full and double marathon (52.4 miles) within city limits, TSFM is collaborating with new partners this year to bring exclusive features for a robust race day experience. With the full marathon and both half-marathons already sold out, event organizers also announce exceptionally strong registration numbers for 2014 – a testament to the event's all-inclusive spirit and civic appeal to attract new participants from around the country.
"Our recent efforts to bring San Francisco to the forefront as a world-class, city-brand marathon has resulted in an early surge of sign-ups this year," said Lark Ryan, head of marketing at The San Francisco Marathon. "This is the fastest TSFM has sold out the marathon and half marathons in its history, and we anticipate our 5k race to sell out by race day."
In addition to proactive outreach to new audiences, TSFM organizers have invested in its social media platforms, technology partners, and an ambassador program to capture the unique intersection of marathon running as a sport focused on personal achievement, but with a fervor for community and shared experience. "We are launching a number of programs to ensure local participation and focus on San Francisco pride and philanthropy," said Ryan. "Around 45 percent of participants are from the Bay Area and we'd like that number to rise. This historic race truly belongs to the local community."
NEW THIS YEAR: For the 37th annual San Francisco Marathon, organizers have collaborated with key partners to bring exclusive, innovative features to streamline and improve the race day experience. New features this year include:

TSFM is a USA Track & Field-certified Boston Marathon qualifier race that spans through scenic San Francisco. With events for both expert and novice runners, races include a full marathon, two half Marathons, a 5K, and the ultimate double marathon – a grueling 52.4 mile, back-to-back marathon that begins at midnight, with proceeds going to benefit charities of the runner's choice. The marathon culminates at the Finish Line Festival featuring food, entertainment and more.
Interested runners can sign up to run at the runner's expo on July 25 and 26 at Fort Mason. Limited spots are available for the 5k and double marathon. For more information about how to register, join training groups, support charities and find course maps, events and entertainment visit http://www.thesfmarathon.com.
About The San Francisco Marathon
Known as THE original San Francisco race event with beautiful scenery and a strong community history, this USA Track & Field certified race starts at the Ferry Building, runs along the Embarcadero, over the bridge, through Golden Gate Park and the Haight Ashbury District before finishing in front of Cupid's Arrow. The events include a race for runners of all levels: 5K, two half marathons, a full marathon and double marathon. The San Francisco Marathon is the only full marathon and double marathon event in San Francisco. Other partners and sponsors for the 2014 San Francisco Marathon include: CLEAR airport security, Fitletic fitness gear, GU energy, Nuun electrolyte enhanced drink tabs, Sierra Nevada Brewing Company, Sports Basement, UPS and Zico Coconut Water.
Facebook: https://www.facebook.com/theSFmarathon
Twitter: @THESFMARATHON
Official Blog: http://www.thesfmarathon.com/community/blog/