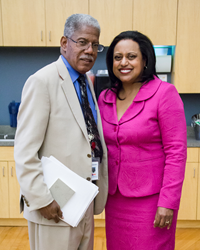 This here is all that is right in healthcare.
Richmond, VA (PRWEB) July 18, 2014
It's easy to talk about the challenges of healthcare.
"Everybody talks about what's wrong, or what's not working with healthcare," Kathy Menefee, Executive Director of Riverside Health System's Program For All-Inclusive Care for the Elderly (PACE) MacTavish Center in Richmond, said earlier this month. And she would know. After 33 years in healthcare, she's heard a lot.
But, she added, surveying Riverside PACE MacTavish, "This here is all that is right in healthcare."
More than 100 people gathered July 10 inside PACE MacTavish in honor of the center's third anniversary of service to the Richmond, Va. community, helping older adults continue to age in a place of their choosing.
In his remarks to the crowd, guest speaker and former Virginia Senator Henry L. Marsh, III commended Riverside PACE for its contributions to the community since opening and, added jokingly, providing a place he may likely need in coming years as his ages.
Cheryl Miller, Anchor and Reporter for CBS 6 News in Richmond emceed the event.
PACE MacTavish is one of Riverside Health System's six PACE centers in Virginia, making Riverside the Commonwealth's largest PACE operator. Currently PACE is only available in 29 states serving just 30,000 participants nationwide.
The mission of the PACE program is to provide comprehensive medical and social services so that participants can remain living in their homes, rather than in a nursing facility.
At the Riverside PACE centers, which are approved Medicare and Medicaid providers for qualifying older adults 55 and up, members receive comprehensive medical and social services, just like nursing homes offer, but still live with and near family and loved ones and are part of their neighborhood and community.
It's because of that robust care that Sharon Williams, who became a PACE MacTavish member more than a year ago, tells people her favorite part of PACE is, well, "everything."
Williams comes to PACE MacTavish five days a week to participate in social activities and medical check-ups.
Williams' adoration for the program is a testament to the care and dedication of the many Riverside PACE team members.
That's why, Kim Fauerbach, Marketing Manager for PACE MacTavish, noted at the celebration that she has the easiest job in the center.
It's easy, she said, to market a program you completely believe in, to market a program you would entrust your own family in, and to market a program that truly sets out to help older adults age in a place of their choosing.
Riverside PACE MacTavish is located at 1300 MacTavish Avenue in Richmond.
For more information on Riverside PACE, visit http://www.riversideonline.com/pace.