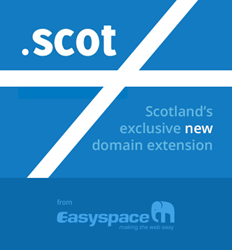 It's a fantastic way of expressing pride in Scotland as a land and the Scottish people. I really want to see .scot as a community across the globe.
Glasgow, United Kingdom (PRWEB) July 17, 2014
Scottish domain name registrar Easyspace, which is part of UK cloud company iomart, is offering ex-pat Scots living in the United States and elsewhere the chance to secure a new domain name that will allow them to use their heritage and ancestry to identify themselves online.
The new .scot generic top-level domain name (gTLD) has just been launched by not-for-profit company Dot Scot Registry which describes the new domain name as "a community gTLD for the worldwide family of people who have a shared commitment to Scottish identity and culture."
Easyspace is a leading domain name registrar and web hosting company and an ICANN accredited domain name provider. It is registering the interest of anyone who would like to secure .scot with pre-registration to follow shortly.
Gavin McCutcheon, director of the Dot Scot Registry, said, "The .scot domain is for anyone with an affinity to Scotland – you don't need to be based here – to show off pride in their Scottish identity."
"For Scottish businesses and organisations, there's obviously a part of this that can be about protecting trademarks but it's also a fantastic way of expressing pride in Scotland as a land and the Scottish people. I've been really excited by seeing the organisations that have signed up to date and, judging by the initial flurry of interest, it's going to be an exciting few months as we see more and more diverse companies express their pride in Scotland by using .scot."
"For me, the one thing I really want to see is .scot as a community across the globe."
Several groups outside Scotland including the Louisiana Scots and the Clan Wallace have already taken the chance to launch websites using the new .scot domain name.
Sarah Haran, managing director of Easyspace, added: "This is a wonderful opportunity to identify yourself or your organisation through your Scottish heritage and ancestry. Having a .scot domain name, website or email address will help businesses, organisations and individuals with Scottish roots around the world to stand out from the crowd online."
.scot is one of a huge range of new domain extensions including .London and .club that are being made available this year. Easyspace has created a web portal with information on how to register your details for .scot and full details on how to register for many of the other domain names being made available http://www.easyspace.com/domain-names.
Easyspace is part of one of the UK and Europe's leading cloud companies iomart Group plc which provides compute, storage and connectivity to thousands of businesses from data centres at eight locations in the UK and a network of international Points of Presence.