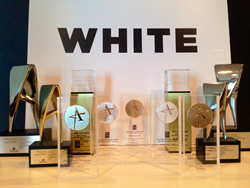 Being recognized amongst our industry from thousands of national and international brands, countries and other destinations is an incredible accomplishment.
Fairfax County, VA (PRWEB) July 17, 2014
This past year has been a whirlwind of achievement for Fairfax County's Destination Marketing Organization, Visit Fairfax. Thanks to a little help from America's Founding Fathers, Visit Fairfax's "Historical Figures" campaign has taken the county, the region, and now the nation, by storm.
This successful campaign has won 16 prestigious advertising, public relations and digital awards to date, succeeding over thousands of both national and international brands in competition for the ultimate honor: recognition among the best. Visit Fairfax, and its advertising agency of record, WHITE, have been awarded two Gold National American Advertising Federation ADDY Awards, as well as one Platinum award and the coveted Best of Show at the 2013 Hospitality Sales and Marketing Association International Adrian awards. Other wins include three HSMAI Gold Adrian awards and one Silver Adrian, two Gold District AAF ADDY awards, five local Washington, D.C. area AAF ADDY awards and a 2014 Virginia Association of Convention & Visitors Bureaus Virgo award.
"The continued achievements seen by the Historical Figures campaign over this past year have been a great honor, for both Visit Fairfax and our amazing county," said Barry Biggar, President and CEO of Visit Fairfax. "Being recognized amongst our industry from thousands of national and international brands, countries and other destinations is an incredible accomplishment. I would like to extend a thank-you to our entire team, including our wonderful colleagues at WHITE, as none of these prestigious wins would have been possible without everyone's collective, dedicated efforts."
The Historical Figures campaign launched over the 2013 Fourth of July holiday, targeting the drive markets of New York, Philadelphia and Washington, D.C. The campaign was developed to showcase the "WOW" Fairfax County, Virginia has to offer, with a goal of generating buzz and engaging Smartphone users with an innovative, cross-platform mobile experience. Users were able to transform static posters, in high-traffic urban areas of targeted cities, into an interactive experience with assistance from the ubiquitous QR code and a clever video, spoken from the mouths of our Founding Fathers, George Washington, Thomas Jefferson and Benjamin Franklin.
Success of this magnitude coming from a local DMO is nothing short of inspiring. As a result of street team dominance, engaging out-of-home creative, an interactive mobile experience, and a socially viral promotion, prospective travelers saw, scanned, and laughed to the tune of more than 16 million media impressions that translated into a projected $5 million in revenue and a 110:1 return on investment.
"The idea behind this campaign was to integrate the new, a mainstream mobile media culture, with the old, Fairfax County's deep historical roots," said Matt White, CEO of WHITE. "The Historical Figures campaign has created a unique and original way for tourists and residents alike to view Fairfax County in a new light."
Visit Fairfax has proven that David-sized organizations can triumph over Goliath-sized competitors and budgets with the right inventive, concept-driven idea. With the evolution of the advertising industry and the inclusion of the digital space, now more than ever, the power of ideas is vital. As Visit Fairfax has demonstrated, when a powerful idea is put forth in an imaginative, integrated way, the industry takes notice.
About Visit Fairfax
Visit Fairfax is the official destination marketing organization for Fairfax County, Virginia. Charged with tourism marketing and promotion, it is directed by many of the County's top tourism and hospitality leaders. For more information, please visit us online at fxva.com, on Facebook or on Twitter.
About WHITE
WHITE was founded in 1964 as Nolan Duffy and White by E. James White who had a passion for creative that delivered results. With media consumption continually changing, WHITE provides clients with integrated, winning solutions. For more information, please visit us online at white64.com, Facebook and Twitter.