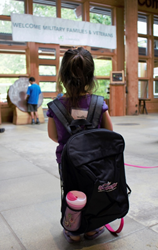 "Military kids go through a lot, and sometimes feel like they're going through it alone..."
Alexandria, Virginia (PRWEB) July 17, 2014
The National Military Family Association, a nonprofit that works to strengthen and protect military families, has kicked off their annual summer camp season for military kids. The week-long camps are for children whose parents have been, are currently or will soon be deployed. Deployments are tough on kids, and these camps are designed to help.
"Military kids go through a lot, and sometimes feel like they're going through it alone," said Executive Director, Joyce Raezer. "These camps allow them to put their worries aside and just be kids with their peers who've had many of the same experiences with deployments."
Operation Purple camps have already wrapped up in Florida, Indiana, North Carolina, and Pennsylvania where kids enjoyed hiking, water sports, and arts & crafts. Every camper leaves with cherished memories and hopes of coming back.
"I really liked Operation Purple! It was the best camp because I met new friends and we got to do hiking, archery, and canoeing," said one camper. "Both our Dads are deployed and we both miss them a lot."
This year, more than 1,200 children will attend camp in one of the following locations: Alaska, California, Connecticut, Florida, Indiana, North Carolina, New York, Oregon, Pennsylvania, Texas, Washington, and West Virginia. The National Military Family Association started its Operation Purple Camps more than 10 years ago and have served more than 52,000 military children. For more information, visit: http://www.militaryfamily.org/our-programs/operation-purple/2014-camps.
About the National Military Family Association
Military families serve our country with pride, honor, and quiet dedication. The National Military Family Association is the leading nonprofit organization committed to strengthening and protecting the families of the men and women currently serving, retired, wounded or fallen. We provide families of the Army, Navy, Marine Corps, Air Force, Coast Guard, and Commissioned Corps of the USPHS and NOAA with information, work to get them the benefits they deserve, and offer programs that improve their lives. Our 44 years of service and accomplishments have made us a trusted resource for military families and the Nation's leaders. To learn more, visit http://www.MilitaryFamily.org.