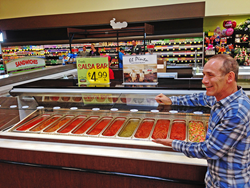 This is an exciting day for El Pinto Salsa and Smith's, to be featured as part of this revolutionary grocery concept, the first of its kind in New Mexico.
Albuquerque, NM (PRWEB) July 16, 2014
The Grand Opening of Smith's flagship Marketplace store in Los Alamos, New Mexico launches with an exclusive salsa bar from El Pinto. Featured in the salsa bar are eleven varieties of El Pinto salsa and cooking sauces available for purchase by the pound. This is the first Smith's Marketplace in New Mexico and the first El Pinto salsa bar in the nation.
The 110,600-square-foot store opens today with 200 cheeses, a wine cellar, and beer and wine by the glass with patio dining. It is not your typical grocery store and is a new concept for restaurant style dining within the grocery experience. The El Pinto salsa bar featuring eleven varieties of El Pinto salsa is also the first of its kind.
Jim Thomas, co-owner of El Pinto Restaurant and Salsa Company, explains, "This is a exciting day for El Pinto and Smith's, to be featured as part of this revolutionary grocery concept, the first of its kind in New Mexico."
John Thomas continues, "The high quality ingredients and fresh taste of El Pinto salsa products are a perfect match for the premium fresh products within this Marketplace store. Come taste all of El Pinto salsa varieties on the salsa bar for dining within the Smith's Marketplace or take them home."
El Pinto green chile salsa and cooking sauces feature hand peeled and fire-roasted green chile produced in an organic certified and safe quality food certified factory located on the property of El Pinto Restaurant in Albuquerque, New Mexico. El Pinto red chile is nature grown without herbicides or pesticides and is entirely sun dried on the vine according to authentic tradition before being processed on site at El Pinto. All all El Pinto salsas and sauces are gluten free and use the highest grade Celtic sea salt.
El Pinto Restaurant and Salsa Co. continues to expand in its 52nd year with an emphasis on serving nutritious, locally raised, and organic foods. El Pinto Restaurant has grown from a few tables in one room started by John and Jim Thomas' parents, to become the most famous restaurant in New Mexico with beautiful patios, natural wood burning fireplaces, and healthy New Mexican cuisine. El Pinto Salsa has recently expanded with the addition of the convenient single serving cup which reduces product waste and increases consumer satisfaction. The restaurant and salsa manufacturing facility are co-located on property in the North Valley of Albuquerque, New Mexico.
About El Pinto Restaurant & Salsa Co:
Established 52-years ago, El Pinto is a quintessential icon for New Mexican cuisine. Conveniently located in the North Valley of Albuquerque just off I-25, the serene patios located under beautiful cottonwood trees provide an iconic experience. Voted Best New Mexican Restaurant in Albuquerque, El Pinto is known nationally for its fire-roasted green chile and fresh flavorful salsa distributed across the nation in local grocery stores. The salsa and green chile factory is located on the same grounds as the restaurant. For an authentic taste of New Mexico, visit El Pinto for its fresh iconic food, traditional margaritas, and award winning chile. http://www.elpinto.com
Smith's is a division of the Kroger Co., one of the nation's largest retail grocers. From its division office in Salt Lake City, Smith's 15,600 associates serve customers in 130 stores throughout 7 western states. More than 2,500 Smith's associates serve customers throughout 26 food and drug stores in New Mexico. Smith's charitable giving, in partnership with 16,000 associates, generous customers and suppliers, totaled $9 million in cash and food products to local organizations throughout the west in 2013. For more visit: http://www.smithsfoodanddrug.com.