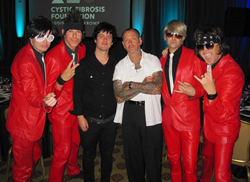 Huntington Beach, CA (PRWEB) July 24, 2014
The event, called Pipeline to a Cure, took place Saturday July 19, 2014 at the Hyatt Regency in Huntington Beach, Calif.
The evening, coming off the buzz of last year's event, was sold out with 800 people in attendance and a record-setting net amount of $1.2 million for the Cystic Fibrosis Foundation.
Last year, Social Distortion's Mike Ness was honored at the event and joined 80s band Flashback Heart Attack on stage for an impromptu jam of his songs. This year, members of Green Day joined the band. To make the event even more special, one of the young attendees and 16 year old speaker with CF Shelby Klug sang her favorite Green Day song backed again by Flashback Heart Attack and Green Day members.
Flashback Heart Attack, considered the "80s band to the stars" and a favorite of celebrity, sports stars, Fortune 500, coordinators and event planners has appeared nationally on TMZ, CBS, ABC, NBC, People, US Weekly. Flashback Heart Attack recently played songwriter Linda Perry and actress Sara Gilbert's wedding backing 80s singers Terri Nunn (Berlin) Dale Bozzio (Missing Persons) Annabella (Bow Wow Wow) and Martha Davis (The Motels) all to the surprise of Sara. Flashback Heart Attack also plays across the country for other great charities like Autism Speaks, Habitat for Humanity and a handful of others.
A nonprofit, donor-supported organization, the Cystic Fibrosis Foundation is the world's leader in the search for a cure for CF. The Foundation funds lifesaving research and works to provide access to quality, specialized care and effective treatments for people with CF. Since its inception in 2007, the Pipeline to a Cure campaign has now raised more than $3.7 million to help find a cure for this disease.
More information at: http://www.cff.org and http://www.FlashbackHeartAttack.com