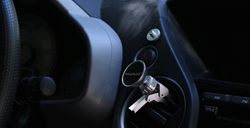 It's not made of plastic that is easy to break. It offers easy, one handed operation to mount and dismount your phone. www.examiner.com
Ithaca, NY (PRWEB) July 17, 2014
"We are excited to launch our first project called iMagBond magnetic smartphone stand on Kickstarter," said Mark Cui, founder and VP of AIBC. "Our previous experience is in customized product for our commercial clients; this is our first product marketed to everyday consumers." For the project, AIBC engaged a design team 9 months ago; iMagBond is the first prototype for smartphone/car gadget product of AIBC.
The product's idea comes from dissatisfaction with current products on the market. Since the first smartphones were introduced, there has been a large selection of in-vehicle cellphone mounts available. Admittedly, the majority of these accessories are of the "plastic clamp" design, requiring two hands to operate, having a bulky appearance, and dependent on suction cups that often fail. For safety reasons, a majority of states have enacted state driving laws prohibiting the use of a mobile device without the aid of a hands-free accessory. Despite these laws, a lot of drivers using their cell phones on speakerphone will still hold the device in one hand, putting themselves at risk of receiving a ticket, as well as defeating the safety purpose of the traffic laws.
Based on the description of AIBC's Kickstarter campaign, the iMagBond system allows a variety of mounting locations, such as any vehicle vent, any spot on the vertical surface of the dash, or any horizontal surface of the dash, with all components individually CNC machined from solid blocks of aluminum. The iMagBond works simply and seamlessly, with installation being just selecting a location, attach and detach the phone with one simple hand motion, and the iMagBond quickly becomes an attractive addition to any vehicle.
The project is seeking $8,800 on Kickstarter in funding within 2 weeks, with basic kits starting at just $12.
For additional information on this release, visit its Facebook page or contact the company directly.