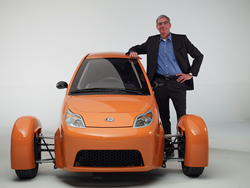 Phoenix, AZ (PRWEB) July 16, 2014
When Paul Elio, CEO of Elio Motors, decided to launch his revolutionary enclosed, three-wheeled vehicle, there was no question in his mind that the low-cost, highly fuel efficient vehicle would be built in the United States.
So, when Elio picked up the July 7 copy of industry trade magazine Automotive News and saw that small vehicle production will double in Mexico by 2019, he was genuinely perplexed.
"If you're going to build a sophisticated product like a vehicle, America's still the best place to do it. Hands down," Elio said. "Elio Motors is committed to creating American jobs and proving that American companies are capable of the innovation and leadership necessary to keep our global manufacturing leadership."
Building a low-cost vehicle doesn't come from one single solution. For Elio Motors, it is a variety of engineering and business decisions, both big and small, that add up to significant cost savings.
"With every decision we make, Elio Motors is laser focused on cost savings," Elio said. "There are a lot of little things that go into making sure the company can profitably mass-produce a low-cost vehicle. It includes engineering decisions, supplier relationships, options packaging, and the retail network and service arrangement. Focus on detail in each of these areas keeps total costs down."
Less "Stuff" = Less Cost
Some things are pretty obvious. The vehicle weighs just 1,228 pounds, while most entry-level vehicles weigh approximately 2,400 lbs. Simple logic states that 1,228 pounds of material costs less than 2,400 pounds of material.
And, of course, less stuff = less cost. Three wheels cost less than four. Two seats cost less than five. One door is less than two or four.
Nothing is Too Small for Engineering Innovation
Other costs savings are far less obvious, but no less important. Many cost savings come from clever engineering solutions that are often taken for granted. Take the hood latch, for example. A traditional hood opens forward, requiring two latches. If the first latch fails, the second latch keeps the hood from popping up and blocking the driver's sight line. But, the second latch requires an interior release handle, a cable and a bracket to install. This simple system alone adds more than $20.00 to vehicle cost and adversely affects gas mileage because of added weight.
On an Elio, the hood is engineered to open the other way. If the latch fails, the wind will blow the hood down rather than up, so a redundant latch is not required. The Elio latch costs just $3.00.
The Elio Motors engineering team and its suppliers have come up with hundreds of these cost-saving designs. All of them together add up to significant cost savings as a whole.
Elio Motors Business Operations Simplify Retailing, Service, Reduce Overall Costs
Much like the vehicle design itself, Elio Motors has many innovative operational strategies that help control overall costs. This includes how the company allows customers to pick options, as well as how vehicles are sold and serviced.

Option Strategy Reduces Over Contenting – Most vehicles for sale today package options in bundles. This helps control inventory, but it ultimately means that consumers are forced to pay for options they don't want. Elio Motors is going about this differently, offering two basic models, one a standard transmission and one an automatic transmission. Every vehicle comes with AC/heat, AM/FM stereo radio, power windows and a power door lock. Customers can add other individual options such as a power leather seat, blind spot detecting mirrors, back-up camera and more. This ensures customers pay only for the options they want.
Proven Service Network – Elio Motors will be supported by a proven service network — Pep Boys. This simplified system allows Elio Motors to pass along substantial savings to the customer by reducing the costs to operate a service network. In doing so, the focus will remain on building quality, low-cost vehicles and in turn rely on Pep Boys as the Official Service Center to deliver a high quality customer experience.
Company Owned Retail Outlets – Elio Motors' company-owned retail stores will be strategically located in markets of high sales potential and will be situated in real estate situations that are high traffic and make efficient use of floor space. The stores will be architecturally simple and focused on efficiency, which allows Elio Motors to pass savings along to its customers.
About Elio Motors: Founded by car enthusiast Paul Elio in 2008, Elio Motors Inc. represents a revolutionary approach to manufacturing an ultra-high-mileage vehicle. The 3-wheeled Elio is engineered to attain a highway mileage rating of 84 mpg while providing the comfort of amenities such as power windows, power door lock and air conditioning, accompanied by the safety of multiple air bags and an aerodynamic, enclosed vehicle body. Elio's first manufacturing site will be in Shreveport, La., with plans for the first production vehicle to roll off the assembly line in 2015 and significant production, sales and distribution during the next two years.
For more information, visit http://www.eliomotors.com or http://www.facebook.com/ElioMotors or email Mike DeVilling at mdevilling(at)berline(dot)com.