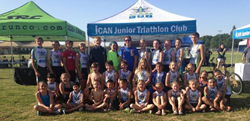 My two sons are not extremely experienced triathletes, but the race staff and volunteers made the whole experience easy, safe and enjoyable.
Clovis, CA (PRWEB) July 16, 2014
The 3rd annual "iCAN TRI Youth triathlon" scheduled for Sunday, July 20th, 2014 will return to the Clovis North Educational Center. The youth triathlon division will be open to youth ages 6-19.
This race is part of USAT Southwest Region Talent ID Series, a non-drafting race for youth ages 13-19 and the F1 Elite Race Series, a draft legal race for youth ages 12-15 and 16-18. We are proud to host the USAT Southwest Region Youth Championship again. This is an outstanding venue with challenging courses for each age division.
The transition and finish line area are staged in the grass area between the baseball and softball practice areas, allowing spectators a virtual 360-degree view of the events.
"Sometimes spectating triathlons can be challenging. As a parent you want to see as much of the event as possible, and your children like to be seen. Being able to see the transition area, run course and finish line without going very far is a huge plus and unique to most other youth triathlon I've attended," said communication director DeAnna Turner. "Clovis North has a perfect setup for this. When you're dealing with kids, the safety and logistics of race have a big impact on a parent's decision to travel long distances for a youth triathlon."
An early 7:00 a.m. start will help beat the heat. The swim complex has (2) 50 meter pools for short and long-course swimming. The bike and run courses of varying distances will challenge each athlete of the (4) Youth Divisions and Elite Division. A USAT sanctioned event means the race must adhere to USA Triathlon's safety requirements. Safety plans, course maps, and event details must be submitted for review by experienced USA Triathlon staff. This ensures events are safe and fair competition environments.
Finisher medals will be given to each participant crossing the finish line. Individual awards will be presented to the top five finishers in each one-year Youth age group division from 6-19 and the top three finishers in the Youth and Junior Elite Division 12-15 and 16-18. The race will be chip-timing with T1 and T2 splits. Neoprene chip ankle bands will be available for purchase.
"My two sons are not extremely experienced triathletes, but the race staff and volunteers made the whole experience easy, safe and enjoyable. The event ran smoothly, transition areas were well laid out, the large number of police and volunteers kept things safe, and the post-race expo area provided great food and fun for the kids," said Chris Fiorentino of last year's race.
10 year old Heaven Vallejos is a legally-blind cross-country runner and will be participating in the triathlon this year. She will be shadowed throughout the race and is sure to inspire us all. You can see more about this amazing athlete at http://youtu.be/hO_gIm9PSFs.
The event also brings a broad range of community businesses to the race with an expo that wraps around the finish chute. Local cycling teams, triathlon clubs, swim instructors, medical doctors and nurses step up to lend a helping hand to an event that covers a large amount of territory. Safety is the event's main concern. Both State of California, CHP and City of Fresno PD officers patrol the bike course to ensure traffic closures, and medical stations are set up around the course to provide assistance if needed.
Great post-race food will be available for EVERYONE and there will be a water zone to keep the kids cool this year also.
The iCAN Junior Triathlon Club, a community benefit organization, has been in existence since 2006.
The club puts great emphasis on a creating a fun, positive and safe environment where youth can learn the sport of triathlon as well as iCAN's core life principles of confidence, patience and determination.
In 2011, USAT recognized iCAN Junior Triathlon Club as one of the top three youth clubs in the nation amongst 323 youth clubs spread across the country.
For more information, pictures, and details on the iCAN TRI Youth Triathlon: http://www.icantri.org or http://www.icantriclub.com.
###