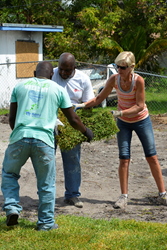 Dania Beach, FL (PRWEB) July 16, 2014
Lukes-Sawgrass Landscape pitched in for Habitat for Humanity's "Home Builders Blitz 2014," during which professional homebuilders and construction firms work to build and renovate nearly 260 homes nationwide.
The new three-bedroom, two-bath home is located in Delray Beach, and is the 116th house built by Habitat for Humanity's South Palm Beach County Chapter. Lukes-Sawgrass Landscape removed trees, installed general landscaping - including sod and mulch, and installed lawn sprinklers. New homeowners, Army veteran, Charles Rahming and his wife, Mary, were presented the keys to their new residence on June 28.
"Lukes-Sawgrass Landscape is honored to give back to the community in this manner," said Luke Facarazzo, Director of Sales and Key Accounts. "Habitat for Humanity is a renowned organization that does a lot of good around the country, and it's a privilege for us to do our part in our home state of Florida."
About Habitat for Humanity
Habitat for Humanity of South Palm Beach County (SPBC) is a nonprofit, 501(c)(3) organization that works to provide affordable homeownership opportunities for hardworking and deserving families in the cities of Boynton Beach, Delray Beach, and Boca Raton, Florida. We build homes in partnership with families who demonstrate a need for housing and a willingness to work with us to purchase a home of their own. With the help of our generous supporters and volunteers, since our establishment in 1991, we have empowered over 100 families in our community to achieve their dream of owning a safe, decent and affordable home. For more information, please visit http://www.habitatsouthpalmbeach.org.
About Lukes-Sawgrass Landscape
Lukes-Sawgrass Landscape, a FirstService Residential company, is a South Florida-based, full-service landscaping company whose service area encompasses much of the state of Florida. As a single-source provider for the landscaping needs of community associations, townships and cities, commercial properties and single family homes, Lukes-Sawgrass Landscape specializes in designing, building and maintaining a landscape setting to fit the individual needs of its clientele. For more information, visit http://www.lukessawgrass.com.