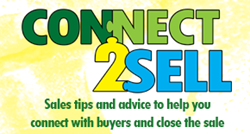 I can't think of a nicer honor than appearing on this list with 49 blogs that have inspired me and taught me so much. - Deb Calvert
San Jose, CA (PRWEB) August 14, 2014
Every July, the Top Sales World judges assess popular sales and marketing blogs and compile what they believe to be the top 50. The team evaluates "quality of the written word, including use of grammar, punctuation and originality; ability to educate or entertain, specifically giving something back rather than 'pitching' continuously;' popularity as measured by visitor numbers; social media exposure; blog design; and regularity of posts.
The 2014 list of the Top Sales and Marketing Blogs was announced on August 12 with the CONNECT2Sell Blog debuting on the prestigious list.
This blog promises to help sellers cut out continuances, put an end to pending and stop stalling out in sales. How? By forming and sustaining stronger connections with their buyers. The CONNECT2Sell Blog is dedicated to helping sellers advance the sale by improving their connectivity.
This blog, formerly known as the Advance the Sale Blog, has been appearing every Wednesday since 2012. It is written by Deb Calvert, recently named to the 2014 list of Top Sales & Marketing Influencers and the author of DISCOVER Questions™ Get You Connected. Calvert says her aim is to "help sales professionals at every level reconsider their tactics and refocus on the human-to-human connections with their buyers."
CONNECT2Sell publishes weekly and features monthly themes about the various ways sellers can connect with buyers. The companion blog, CONNECT2Lead, follows the same theme making the combination a powerful duo for sales managers. The theme for August's posts is connecting by listening, and the September theme will be connecting by encouraging others.