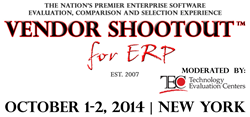 an excellent opportunity to see many different applications in a low pressure setting
New York City, NY (PRWEB) July 21, 2014
Established in 2007, the Vendor Shootout™ for ERP is the nation's first and longest running event focused on simplifying enterprise resource planning (ERP) software evaluation, and selection. Geared toward ERP selection teams and decision makers for companies with manufacturing and distribution requirements, this premier event is ideal for businesses that are budgeting for or are currently evaluating an ERP software upgrade or replacement.
The goal of this streamlined event is to create an efficient ERP selection process for manufacturers and distributors by bringing top Tier I and Tier II ERP solutions to a neutral platform for presentation and comparison. The event will consist of live scripted product demonstrations from these top ERP vendors, as well as insightful general session presentations. The aim of this structured format is to minimize the length of the decision making process, which would otherwise take months of information gathering, logistics and planning.
Furthermore, each product presenter will cover additional topics such as user interfaces, product utility, overall usability, and key functionality specific to each product. The concise format of the event benefits not only ERP system shoppers but also ERP vendors by assembling an integrated event where both parties can achieve their goals in a time and cost-effective manner.
Past Vendor Shootout attendees have described their experience as a "very unique approach that is highly beneficial to those in the market for a new ERP," and "an excellent opportunity to see many different applications in a low pressure setting."
Located just over the Hudson, the event is expected to have sizeable attendance, considering the convenience and proximity to major manufacturing companies from the Tri-State area.
In addition to the fall event, the Vendor Shootout™ Leadership Team in partnership with Technology Evaluation Centers will be hosting a Supply Chain Management Symposium Series on August 12th in Chicago and August 14th in New York City. These free, half day events will include a series of interactive panel discussions featuring leading industry analyst and top ERP vendors. Attendees will have the opportunity to learn about current industry and technology trends, and gain insight that can help them succeed in a competitive market. These Symposium events are a great introduction to the benefits of ERP solutions for companies with distribution requirements and a preface to the value Vendor ShootoutTM events offer organizations.
For additional information, sponsorship opportunities or to register for the upcoming Vendor Shootout™ for ERP on October 1-2, 2014 in Weehawken, NJ, and for information on the Supply Chain Symposium series, visit http://www.erpshootout.com or call 877.907.2702. Group rates for the Vendor ShootoutTM for ERP are currently available. However, space is limited.
About Vendor Shootout™ for ERP
Created in 2007 by brij Image and Information, the Vendor Shootout™ for ERP has helped to simplify software selection for hundreds of companies throughout the US and abroad. brij's goal was to create an event where qualified manufacturing and distribution organizations could come and witness multiple ERP packages in action, without sales pressure. What started as a unique concept, has grown into an international brand that has and will continue to change the way manufacturing and distribution organizations approach their software selection projects. For more information on the Vendor Shootout™ for ERP, visit http://www.erpshootout.com. For more information on brij, visit http://www.brij.net.
About Technology Evaluation Centers
TEC helps organizations choose the best enterprise software solutions for their unique business needs--quickly, impartially, and cost-effectively. TEC's online Evaluation Centers, containing IT research and extensive knowledge bases, are the leading resource for IT decision makers around the world. By combining that information with a proven methodology, unique Web-based software selection platforms, and years of software selection expertise, TEC delivers an unmatched range of online software evaluation and selection services that bridge the gap between enterprise decision makers and the vendor/value-added reseller (VAR) community. For more information, visit http://www.technologyevaluation.com.
###