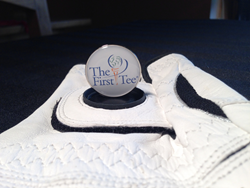 As leading experts in the golf tournament fund raising industry, Millennium Logo Glove look forward to making a positive impact within The First Tee family of Chapters.
Blaine, Washington (PRWEB) July 18, 2014
Millennium Logo Glove, a leader in the golf promotional products industry with their custom logo golf gloves & golf tournament gift / golf fundraising programs, is pleased to announce their new Corporate Partnership with The First Tee. Millennium Logo Glove will be working with The First Tee National office and their network of chapters with their unique line of custom logo golf gloves, tournament tee gifts, and fundraising programs.
The new partnership takes effect immediately.
"Millennium Logo Glove was founded in 2004 on the premise of assisting golf tournament planners / fund raisers put on better golf tournaments and raise more money by utilizing our unique custom logo golf glove, golf tournament gift, and fundraising programs," says Peter Ruzyski, VP for Millennium Logo Glove. "We are looking forward to sharing our innovative fundraising programs with The First Tee and their chapters, and supporting their efforts to make a positive impact in their communities."
"We are thankful for Millennium Logo Glove's support of The First Tee and our efforts to reach young people with programs that provide character education through the game of golf," said Jennifer Weiler, VP for Strategic Alignment and Development for The First Tee.
About Millennium Logo Glove:
Since 2004, Millennium Logo Glove (http://www.millenniumlogoglove.com) has assisted Golf Event Planners all across North America by offering some of the most unique and innovative golf tournament gift & custom logo golf glove fitting programs in the golfing world. With the Millennium Tournament Glove Program, all participants of a golf tournament are able to be custom fitted with a detachable magnetic ball mark logoed golf glove. Zero sizing issues – Zero gloves left over upon event conclusion. With over 1000 tournaments fit to date, Millennium Logo Glove is a recognized expert in the charity golf tournament tee gift industry.
About The First Tee:
The First Tee (http://www.thefirsttee.org) is a 501(c)(3) nonprofit youth development organization whose mission is to impact the lives of young people by providing educational programs that build character, instill life-enhancing values, and promote healthy choices through the game of golf. With its home office at World Golf Village in St. Augustine, Fla., The First Tee reaches young people on golf courses, in elementary schools, and at other youth-serving locations.
Since its inception in 1997, The First Tee has introduced the game of golf and its values to nine million young people in all 50 United States and select international locations. The First Tee's Founding Partners are LPGA, the Masters Tournament, PGA of America, PGA TOUR, and the USGA. Shell Oil Company is The First Tee's Founding Corporate Partner, and Johnson & Johnson is its Legacy Partner. Former President George W. Bush serves as honorary chair.