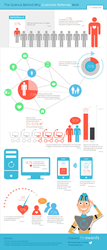 We wanted to prove that customer referrals can be the lifeblood of lasting growth.
Toronto, Canada (PRWEB) July 29, 2014
Forewards publishes infographic showing customer referral influence in retail. Forewards, a leader in customer referral program software, has released its latest infographic: "The Science Behind Why Customer Referrals Work".
Customer referrals and positive word of mouth have always been assumed to be one of the primary drivers of their organic business growth. Forewards' newest infographic compiles some of the latest and existing research to show what the impact of customer referrals look like from a qualitative perspective.
The infographic begins with a look at the impact referrals have on customer loyalty showing that referred customers have a 37% higher retention rate than those acquired through other means. The research goes on to show that demographics may also play a role in likelihood of customer referrals with 73% of Millenials indicating they feel it's their responsibility to help friends and family with purchase decisions through referrals.
"We wanted to prove that customer referrals can be the lifeblood of lasting growth," said Jason Dea, COO of Forewards. "Our infographic shows that the numbers back this up, and it is our core belief that as social media continues to grow in importance as a consumer communication channel, the importance of a customer referral program will also grow."
To view the infographic, visit: http://forewardsapp.com/blog/science-behind-customer-referrals-work/
At Forewards, entrepreneurs inspire us, and we're built from a team of them too. We love helping people do what they're passionate about and turning it into their full-time gig. Our team is obsessed with why consumers shop online, what drives them to be loyal, and what makes them want to refer friends to your store.
Fore more information about Forewards referral marketing software visit: http://forewardsapp.com/.