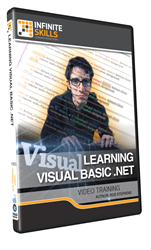 Learn Visual Basic .NET at your own speed.
(PRWEB) July 17, 2014
Software training firm Infinite Skills Inc. this week introduced its "Learning Visual Basic .NET," an introductory course designed for software developers interested in learning the basics of Microsoft's Visual Basic .NET programming language. The course focuses on building many of the features common to modern app development, as well as essential VB .NET programming and best practices.
Visual Basic .NET, along with C#, is one of two flagship languages for the .NET framework offered by Microsoft. The event-driven language includes complete support for object-oriented concepts while running on top of Microsoft's .NET framework, providing full access to all its supporting classes.
Infinite Skills' Learning Visual Basic .NET Tutorial focuses on development of critical skills and techniques in app development, providing a framework with which users can experiment with their own designs as they learn the essentials of the VB .NET language.
Learning Visual Basic .NET Tutorial - Streaming Video
Course author Rod Stephens has been working with Visual Basic since version three, released in 1993. After completing an undergraduate degree in mathematics, Stephens began learning programming, and has been combining his expertise in algorithms with software development ever since. He has developed high-complexity programs for use in fields such as cartography, repair dispatch, billing, fuel tax processing, and even coaching tools for professional football. He has been a Microsoft Most Valuable Professional for the last ten years, and authored 28 books on programming, algorithms, graphics, and graphic design.
Stephens begins with an overview of VB .NET, including an installation guide, a lesson on how to create and run a new project, and more.
The course then guides users through the construction of the essential features of an app, as Stephens teaches how to build a user interface, how to construct common interactive features such as labels and textboxes, buttons, and menus, work with preferences and layout, and event handling.
The course moves into the advanced capabilities and the nuts and bolts features of VB .NET with chapters on working with variables, debugging, working with data types, using various statements, and working with VB .NET classes.
"Visual Basic is a powerful object-oriented language that helps you build Windows desktop programs, Windows phone apps, and web site apps," Stephens explains.
"This course is designed to provide a basic foundation for users to begin working in VB .NET. In order to get the most out of the course, users must take the lessons and practice, modify the lessons and see what you can do."
Free demo videos and a full list of course contents can be found on the Learning VB .NET Tutorial training page of the Infinite Skills website:
http://www.infiniteskills.com/training/learning-visual-basic-.net.html
Infinite Skills offers its Learning VB .NET Tutorial either as a DVD or a direct download from the company website at a retail price of $99.95. All titles and formats are compatible with Mac and Windows operating systems. Shipping is available around the globe. Additionally, Infinite Skills tutorials are supported by project files which correspond to examples in the videos, allowing users to work alongside experienced instructors right on their computer or iPad.
About Infinite Skills Inc.
A leader in the field of software training, Infinite Skills designs its courses on a task-oriented model, teaching complex skills by providing hands-on examples and guiding users as they carry out essential functions. Infinite Skills offers a wide range of software titles available as DVDs, digital downloads, and in iPad editions. Infinite Skills now offers a subscription service, providing access to all its training content for a monthly fee, keeping with company's aim of delivering professional training to customers anywhere they want to learn.