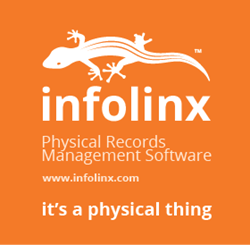 Kensington, MD (PRWEB) July 17, 2014
Today, Infolinx System Solutions™, a leading provider of enterprise physical records management software, announced that it would be exhibiting at the 2014 Campus Technology Annual Summer Conference, the nation's premier higher education technology conference. The conference will be held at the Hynes Convention Center in Boston, MA, July 28-31, 2014. Located in booth #210, Infolinx will be exhibiting July 28-30.
Campus Technology conferences are focused on the most pressing campus-wide IT challenges, needs, and goals. The four targeted tracks this year are digital and online learning, information systems and networking, information technology management and leadership, and teaching in the digital age. This is a chance to discuss the latest technology, trends, and best practices in-depth with leaders in the field and like-minded colleagues.
Infolinx's implementations in this market include school districts, colleges, and universities. The University of Virginia's (UVa) implementation of the Infolinx WEB™ product enabled the UVa Records Management Office to provide state-of-the-art service for their customers including University faculty, staff, students, and the citizens of Virginia. The installed Infolinx WEB application includes the tracking of research, corporate, and facilities management records, while also integrating with offsite storage providers facilitating the seamless transfer of records to and from these vendors.
For Rutgers, the State University of New Jersey, the implementation of Infolinx WEB provided the university's records management office with state-of-the-art tracking of 140,000 boxes, as well as other files and media, in their new on-campus storage warehouse. The solution included advanced retention capabilities with integrated legal holds and citations. In addition to their in-house holdings, the browser-based application is seamlessly integrated with off-site records holdings via the O'Neil Software oneilBridge™ cloud connector solution.
Infolinx representatives Michael Heyman and Paul Robertson will be hosting a roundtable luncheon session titled "Records Related Case Study: Retention of Rutgers, the State University of New Jersey" at the conference. This session will be conducted on Tuesday, July 29th.
About Infolinx®
Infolinx System Solutions is a leading provider of DoD5015.2-certified enterprise physical records management software. Full life-cycle records management for archives, records centers, and file rooms includes integrated Enterprise Content Management, third-party warehouse integration, robust searching, online requesting, complete audit history, location reconciliation, supply item ordering, retention schedule and legal holds management, integrated RFID technology, space management with charge-back functionality, extensive reporting capability, advanced security configuration, workflow email notifications, and legacy data sharing. Available as an on-premises or cloud-based solution, Infolinx maintains clients within all major business segments and the public sector. Infolinx System Solutions Demo.