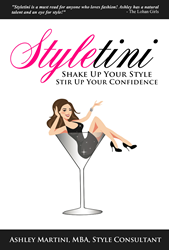 DEERFIELD BEACH, FL (PRWEB) July 17, 2014
Style consultant and entrepreneur Ashley Martini has recently published "Styletini," a fashion guide for women based on body type that helps dress readers for every occasion.
"Just about everyone has had that moment where they felt totally stumped by their wardrobe and ended up late for work, or to wherever they were going," says Martini, founding member of Martini Fashions.
"A fashion guide for women based on body type is, in so many instances, what's needed. Most of the time, the problem is that your wardrobe."
People often buy clothes they like, or that are the current fashion trend, without giving a thought to, "Does this flatter my shape?" she says. Skinny jeans, for example, just don't work for certain women -- and that's okay!
"The starting point in your mind should not be, 'Am I good enough for these clothes?" Instead, it should be, 'Are these clothes good enough for me?"
Martini's fashion guide for women based on body type offers guidance about what best flatters various shapes – and what does not.
"It really does start with your mindset," she says. "Don't think in terms of what you're trying to hide or underemphasize. Sometimes, you end up highlighting something by trying to hide it."
You're better off thinking in terms of your strengths, which is why you should own your body type, she says. If you're a plus-size women, for example, then highlight your assets, such as your curves, she says.
"This book is great for those who are interested in fashion but aren't quite sure how to look their best," writes Amazon reviewer Nicole Annunziata, who gives it five stars. "I found out what my exact body type is thanks to Ashley. I feel like I am able to dress my specific body type accordingly and more appropriately for any given situation … She makes putting an outfit together fun rather than a chore. I would absolutely recommend this book!"
About Ashley Martini
Ashley Martini, styling consultant and founding member of Martini Fashions, LLC, discreetly assists both men and women in unearthing and exhibiting their inner beauty through style, fashion and the top trends. Ashley is the author of the new book on style, "Styletini," (http://www.ashleymartini.com). A business graduate of Lynn University, she specialized in fashion marketing and merchandising. She also completed her master's degree in business with a focus on international business, and studied abroad in the world's fashion capital, Paris, with a concentration in fashion styling and trend forecasting. She worked as a styling intern with Jennifer Lopez's fashion company Sweetface/JustSweet/JLO, and earned numerous fashion awards.