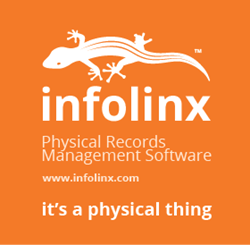 Kensington, MD (PRWEB) July 22, 2014
Today, Infolinx System Solutions™, a leading provider of enterprise physical records management software, announced that they would be exhibiting at the 2014 Archives Records annual meeting to be held August 10-16 at the Marriott Wardman Park in the heart of Woodley Park, Washington, DC.
This year's joint meeting of the Council of State Archivists (CoSA), the National Association of Government Archives and Records Administrators (NAGARA), and the Society of American Archivists (SAA) will center on the theme, Ensuring Access. The multi-faceted theme will include discussions focusing on ensuring that digital records created today will be available for use by future researchers raising awareness about collections so that information gets into the hands of people who need it, and finding ways to raise the funds needed to sustain long-term archives programs.
Infolinx has been "ensuring access" to the full life cycle management of physical records for many clients managing archives including the Library of Virginia, Missouri Records Management Division, the Iowa Department of Administrative Services, York County Archives, and, later this year, the Texas State Library and Archives Commission. Solution benefits include a single relational repository managing donors, accessions, and records, physical tracking of records from point of inception, robust retention schedule and legal citation support, and integrated thesaurus.
Representatives will be demonstrating the Infolinx software in booth #503 during the show hours on Thursday, August 14, 5:30 pm – 7:30 pm and Friday, August 15, 9:00 am – 4:30 pm.
About Infolinx®
Infolinx System Solutions is a leading provider of DoD5015.2-certified enterprise physical records management software. Full life-cycle records management for archives, records centers, and file rooms includes integrated Enterprise Content Management, third-party warehouse integration, robust searching, online requesting, complete audit history, location reconciliation, supply item ordering, retention schedule and legal holds management, integrated RFID technology, space management with charge-back functionality, extensive reporting capability, advanced security configuration, workflow email notifications, and legacy data sharing. Available as an on-premises or cloud-based solution, Infolinx maintains clients within all major business segments and the public sector. Infolinx System Solutions Demo.