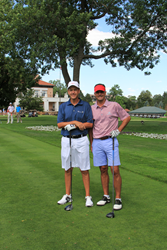 Colorado Springs, CO (PRWEB) July 18, 2014
Last weekend, the world-renowned Forbes Five Star, AAA Five Diamond [Broadmoor resort, located at the gateway to the Colorado Rocky Mountains, reinstated a golf tradition that began in 1921 and continued until 1995. For years, The Broadmoor Invitation hosted the country's top amateurs from clubs around the nation. Premier amateurs, college players and pro tour prospects all gathered in Colorado Springs for the unmatched tournament and a chance to compete on some of the best courses in the world.
This storied event returned last week to the legendary links, one of the world's most honored golf resorts. Teams from clubs around the country including Colorado, Oklahoma, Texas, California, Illinois, and Maryland competed under professional-level tournament conditions. The final match to determine the 2014 champions went into extra holes, giving Chris Hunt of Denver and his partner Dave Lee (of Englewood, CO) a one up victory after 19 holes over Brad Grogg of Colorado Springs and Mike Allred of Colorado Springs. Grogg and Allred were the #1 seated team in the tournament based on their lowest qualifying score of 71, one under par.
The format of The Broadmoor Invitation is based on two-man, better-ball match play. All flights are decided by an 18 hole better-ball stroke play qualifying round. Players can be as high as a 12 handicap, though no handicaps are used throughout the tournament. This qualifying format places similar abilities into flights against other comparable teams.
"Match play has been a key element of The Broadmoor Invitation dating back to 1921. Placing teams in head-to-head matches brings an element of competitive golf including some of the finest players in the country. It truly has the feeling of a championship," said Russ Miller, Director of Golf.
The reintroduction of The Broadmoor Invitation has its roots in a truly storied past. Names inscribed on the prestigious trophy include Hale Irwin, Lawson Little, Charlie Coe and Robert Dickson. Other competitors included some famous names as well, Mark O'Meara, Fred Couples, John Cook Corey Pavin and Lanny Wadkins among them.
"To reinstate such a prestigious golf event after 19 years is always a challenge," said Jack Damioli, Vice President and Managing Director of The Broadmoor. "We wanted to hold true to Spencer Penrose's original concept of top competition mixed with classic events that the competitors' guests could enjoy. This year, we included not only history tours, hikes in Cheyenne Canyon, wine tasting classes by our Level II certified sommeliers, interactive culinary demonstrations, evening dinners and a closing awards banquet." Damioli continued, "Our plan is to continue to not only elevate the level of play at this invitational event, but to enhance the player-guest experience to a level that makes this one of the top club invitationals in the United States, much as it was when it all began in the 1920's."
Since the original Donald Ross course opened in 1918, The Broadmoor Golf Club has hosted 22 major tournaments including seven USGA Championships, including the 2008 US Senior Open and the 2011 US Women's Open championships.
Next year, Broadmoor Invitation will be held in July 2015. For Information, contact Broadmoor Director of Golf, Russ Miller, at rmiller(at)broadmoor(dot)com.
About The BROADMOOR
The BROADMOOR is the longest consecutive winner of the Forbes Five Star and AAA Five Diamond awards for excellence. Situated at the gateway to the Colorado Rocky Mountains in Colorado Springs, the resort encompasses 3,000 acres, 779 rooms and suites and includes three championship golf courses, a Forbes Five Star spa and fitness center, nationally recognized tennis staff and program, 26 retail boutiques and 19 restaurants, cafes and lounges including Colorado's only Forbes Five Star restaurant, Penrose Room. The new "BROADMOOR Wilderness Experience" encompasses The Broadmoor's Ranch at Emerald Valley, Cloud Camp and The BROADMOOR Fishing Camp (opening in 2015). Colorado Springs is serviced with non-stop flights from 11 US cities via Alaska Airlines, Allegiant, American, Delta and United. With connections to worldwide destinations, Denver International Airport hosts more than 1,600 national and international flights daily.
The BROADMOOR is a member of Preferred Hotels and Resorts and Historic Hotels of America. For more information on The BROADMOOR please call 800.755.5088 or visit http://www.broadmoor.com.
NOTE: Additional photos available in the Broadmoor Newsroom. Log in as media; password is Review001. Both are case sensitive. Search photos and tag of Broadmoor Invitation. Generan golf images are searchable under the tag of golf.