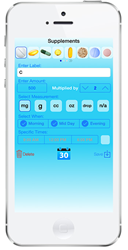 We are devoted to adding in customer requested features like supplement tracking. The app functions as a health support tool as well as a diet tracker. - President John Koncurat
Austin, Texas (PRWEB) July 17, 2014
Appilicious App development has updated the world's first Dr. Simeons diet app, which debuted 2009 to now include the option to add in daily supplements. Appilicious wanted to re-engage their major audiences, which are; physicians and their patients, along with repeat Dr. Simeons diet app customers. The growth of the iPhone app market has driven the company to invest its resources in developing for the iTunes App Store platform.
The Dr. Simeons diet community is growing steadily. This is due in part to the increase in the number of aesthetic offices nationwide realizing the cash positive benefit to administering his protocol. The number one reason physicians are on board with the process is because when followed, they have seen great weight loss success. Many patients have been losing between 18 and 25 pounds in one month eating organic low calorie meals and taking the prescribed injections. Appilicious' app has become a valuable tool, creating efficiency in following Dr. Simeons diet.
Before the Dr. Simeons Diet App +, those going it alone had to use lengthy workbooks (imagine using that at the grocery store), physicians had to spend much of their day (or train additional staff) explaining the nuances of the diet over the phone which took away valuable office time to answer repeat questions. Before the company's App, protocol errors such as forgetting to record daily weight changes, double dosing of injections, and incorrect meal planning were prevalent and lead to weightless slowdowns and frustration.
Appilicious' app serves the patient, giving the user discreet easy access to each detail. It streamlines the necessary daily tracking tasks through the creation of a simple check off system and intuitive food planning functionality. For physicians, it has reduced patient office visits, allowing doctors to increase patient pools. Many doctors require that the patient purchase our app as a prerequisite to coming in for their first consultation. The app can be set up and ready to go in just a few minutes. Everything the user needs from day 1 to completion is included. For these reasons it has become the standard in the marketplace.
The app was updated with lessons learned recommendations from Dr. Edward E. Dickerson IV of Cape Fear Aesthetics. Dr. Dickerson, an efficacious double board certified surgeon, who first found personal success with the diet and went on to be a pioneer in creating an efficient and cutting-edge business model for operating Dr. Simeons protocol. The company took on the expertise of "Dr. D" because their goal was to make sure that each customer could get a quality and reliable experience with the app. Because many of the users take supplements or have prescriptions, this was added to help people track all of their daily health tasks. They are prompted to take their supplements via pop ups when they add in each kind.
Since the original diet was created in the 1970s, Appilicious asked Dr. D to help integrate modern changes. Updates addressed current societal health issues. Patients who are overweight suffer from high blood pressure and are diabetic, it was important that the user had a way to monitor this information daily. The Diet App + now has an easy to use blood pressure and glucose level tracking graph. The feature list continues to grow to better assist dieters to reach their weight-loss goals. Appilicious views these changes as a way to widen the appeal to physician-assisted dieters.
The Diet App + is now available for $9.99 in the USA and is priced accordingly in other regions. The app is available for download to your android device and iPhone/iPad. The company is 100% committed to taking customer feedback to keep up with the unique demands of the marketplace. To find the app in iTunes or Google Marketplace, search: Appilicious.
The Diet App + is developed by Appilicious, a mobile development company founded in 2010.