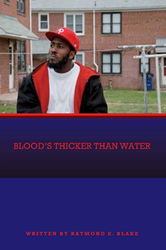 From patience comes great strength!
Wilmington, DE (PRWEB) August 28, 2014
Blood's Thicker Than Water is based on a true story of murder, gunplay, sex, money and family ties in the heart of the city. Raymond E. Blake paints this untold tale like no other – a story about how disrespect caused two families to collide with each other and leave blood and limbs on many streets.
The Yayo Boyz and the M.O.B. Boyz clash in a rain of bullets that leave news reporters speechless and local onlookers in a silent terror. "Guerrilla," AKA "Real," runs his Mob family like no other, while the Browns show that true family is like no other. And through it all, no matter what, blood's always thicker than water.
Read along as Raymond E. Blake masterfully takes you on a journey from scene to scene, painting pictures in graphic detail of a story almost forgotten, told for the first time. If you are interested in purchasing the paperback version of the book, click here. The paperback version is also available from Amazon – click here. Blood's Thicker Than Water is available in ebook format from Amazon, Barnes & Noble, Apple, Kobo, Overdrive, and eBooks2go.
Raymond was born and raised in Wilmington, DE. On September 9, 1980, he entered this world, and blessed has been his life ever since. His name rings bells in every penitentiary, jail cell, and street corner that little Delaware has to offer. Everybody who's anybody rubbed elbows with the champ at some point in time. He's been a victim of the penal system since he was a little boy and a monster to the streets ever since. Raymond served 29 months in prison for trafficking heroin and cocaine, in the Supreme Court case of State of Delaware vs. Raymond E. Blake, No. 282, 2012.
Due to his strong embrace of his higher power and an unconditional love for his family and friends, Raym has put his street life and his love of the game to rest for a greater cause. He has been compelled to write several novels during his time of trials and tribulations.
Several of Raym's close friends and relatives have fallen victim to ill circumstances from thriving in the streets of Wilmington, DE. But Raym wants them to know: "That if you thinketh...thou shall achieve thy vision. And from patience comes great strength!"