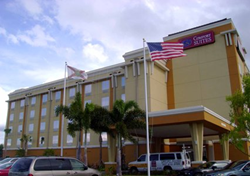 We are humbled and exhilarated by the love and loyalty shown to us...
Orlando, FL (PRWEB) July 22, 2014
Greenbee Parking, a rapidly rising airport parking service, has received rave reviews for their service and performance in the latest airport reviews among its clientele. The young player has come into the scene with a vengeance and immediately changed the way we look at airport parking today. They have introduced innovative deals and offers which are designed to match all kinds of parking needs along with great customer service to enhance the experience for each and every traveler. What's more, they have proven that there is no premium price tag attached to good service so their customers can enjoy their incredible parking services at very affordable Orlando airport parking rates. In a very short time they have risen right up to the top of the charts by offering incredible savings options, deep into their customers' hearts as well.
"We are humbled and exhilarated by the love and loyalty shown to us in the latest reviews by our customers," said Christine Cooper – Marketing Coordinator, Greenbee Parking. "They have also induced fresh strength and motivation in us and we are all set to come up with better and easier parking options at cheap Orlando airport parking rates for all our customers here."
Orlando International Airport Parking Information
Orlando International Airport (MCO) is a busy airport which sees a high volume of passenger footfalls all around the year. The proximity of the Disneyworld and the globally famous tourist hotspots add to the heavy leisure travel figures making it one of the busiest airports in the world. The ever increasing volume of business here has led to major changes and plans for renovations as well as authorities are constantly focusing on improving traveler experience here.
A key focus is on airport parking which has also been greatly aided by young service providers like Greenbee Parking. Their multi-level offers have made the parking choices more flexible and easier and offer a great deal more scope to save on these expenses with the incredibly cheap Orlando airport parking rates.
The Greenbee Airport Parking Solution
Greenbeeparking.com is the connection between consumers and parking vacancies in close proximity to major airports and seaports. The parking spaces are very affordable because the company has negotiated discounted rates with major hotel chains for the parking spaces that are not currently occupied. Here's how it works.
Greenbee Parking puts the available inventory of parking spaces on their website to be reserved by business and leisure travelers looking for cheap airport parking. This alternative method for finding parking equates to significant savings for the traveler. You can learn more about their offers from (http://youtu.be/RWc3dqhugFA) or via the web at http://www.greenbeeparking.com.
About Greenbee Parking
Greenbee Parking is the nation's most innovative long term parking company, with a new way of making long term parking affordable. The company is rapidly adding new airports to its network.