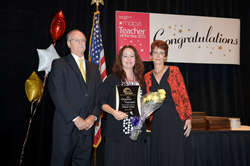 She brings instant credibility to the relevance of high rigor math and science courses by bringing her real-world experiences to the classroom.
(PRWEB) July 23, 2014
It isn't every day that a NASA engineer makes the move from working on the space shuttle and International Space Station to being a classroom teacher in a rural high school. It's even more remarkable for that teacher to involve her students in raising $100,000 to create an award-winning FIRST Robotics team while also teaching Calculus, Physics and Engineering Technology.
Celena Crews, the School District of Columbia County's 2014 Teacher of the Year, received statewide recognition and an award of $1,000 from the Consortium of Florida Education Foundations (CFEF) and Florida Power & Light July 11 for being just that remarkable of a teacher.
She was chosen from among 67 county-wide teacher of the year honorees as the CFEF's annual "Champion of Children" recipient for exemplary dedication to her students. Florida Power & Light sponsored the award with FPL Education Manager Maureen Wilt making the surprise announcement during concluding presentations at the Macy's/Florida Department of Education Teacher of the Year Program in Orlando.
She was singled out for her efforts to increase business and community investment and involvement in her classroom at Columbia High School and for the extraordinary opportunities she brings to her students as a result of those efforts.
"Celena brings instant credibility to the relevance of high rigor math and science courses by bringing her real world experiences to the classroom," said Florida Commissioner of Education Pam Stewart. "Her efforts also represent what so many teachers do every day to broaden the horizons of their students."
Principal, parent and student testimonials in her nomination packet attest to her dedication and inspiration as she discovered her even higher calling to teach six years ago after walking away from a successful career at NASA. They've all witnessed her bringing in other engineering professionals to share their expertise as her classroom is a flurry of activity until late at night during robotics competition season. Her students are now earning scholarships and pursuing engineering degrees to schools that weren't previously on their radar, including Embry-Riddle Aeronautical University and California Polytechnic State University.
"We know it takes extra effort for teachers to seek business and community involvement and investment in their classrooms, which is a large part of what local education foundations do in providing classroom grants and other above-and-beyond opportunities for teachers and students," said Mary Chance, president of the CFEF. "We sponsor this award with our business partner Florida Power & Light to annually celebrate a teacher of the year honoree who consistently seeks outside resources and opportunities for their students."
The CFEF is the membership organization for Florida's school district-wide local education foundations, including the Columbia Public Schools Foundation. Established in 1987, the CFEF now has 59 member foundations with 1,100 business and community leaders serving as volunteer board members. Collectively, they raise more than $45 million annually to support students, teachers and schools through a variety of programs.