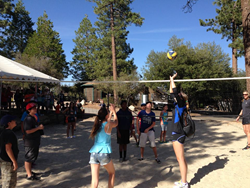 More than three million children are affected by a parent's cancer diagnosis, and through Camp Kesem, we have a way for those kids to get away and connect with others who are in the same situation.
Austin, Texas (PRWEB) July 17, 2014
At the mid-point of summer 2014, Camp Kesem, which provides support for children through and beyond a parent's cancer, and is funded with support from the LIVESTRONG Foundation, is set to serve 4,000 kids at 54 chapters in 27 states.
The camps follow a unique model in that they are organized and operated by student leaders at colleges and universities around the country. Children participate in free, weeklong camps where they share experiences, receive emotional support and meet lifelong friends who are in the same situation of the overlooked population of kids dealing with a parent's cancer. This year alone, the student leaders raised $2.4 million to help fund the camps around the country.
"More than three million children are affected by a parent's cancer diagnosis, and through Camp Kesem, we have a way for those kids to get away and connect with others who are in the same situation," said Camp Kesem CEO Jane Saccaro. "With the help of generous supporters like LIVESTRONG, we've been able to triple the number of children who participate in our programs, having fun and receiving the support they need to deal with very grown-up issues."
This summer, a number of participating chapters also received visits from a roster of Olympic athletes through Athletes for Hope, a group that is spreading their message of determination and strength through adversity.
"I really loved just chatting with the kids at snack time. I lost my own mother to cancer, so it was really special to be able to connect with some of them and talk through the difficulties that we have to go through," said U.S. Volleyball Captain Kristin Hildebrand after her trip to Camp Kesem UCLA.
Other participants from Athletes for Hope are slated to visit approximately a dozen Camp Kesem chapters this summer around the country.
Since 2010, the LIVESTRONG Foundation has provided more than $600,000 to help Camp Kesem increase its reach across the country, leading to the creation of 24 new chapters as of June 2014. With last year's grant, LIVESTRONG became the largest funder of camps for children whose parents or family members are facing cancer in the U.S. Through the Foundation's support, Camp Kesem also trains participating college students to become LIVESTRONG Leaders to educate local schools, hospitals, cancer centers and community organizations about how LIVESTRONG helps patients and survivors affected by cancer.
Overall the LIVESTRONG Foundation has invested more than $80 million in community-centered organizations to support their efforts to help cancer patients and survivors overcome the daily challenges that accompany a diagnosis.
About the LIVESTRONG Foundation
The LIVESTRONG Foundation fights to improve the lives of people affected by cancer now. Created in 1997, the Foundation is known for providing free cancer support services and advocating for policies that improve access to care and quality of life. Known for its powerful brand – LIVESTRONG – the Foundation has become a symbol of hope and inspiration around the world. Since its inception, the Foundation has served 2.5 million people affected by the disease and raised more than $500 million to support cancer survivors. One of America's top non-profit organizations, the Foundation has been recognized by industry leaders including Charity Navigator, the National Health Council and the Better Business Bureau for its excellent governance, high standards and transparency. For more information, visit LIVESTRONG.org.
About Camp Kesem
Camp Kesem provides children affected by a parent's cancer with a life-long, peer-support network that recognizes and understands their unique needs. Since its establishment in 2000, Camp Kesem has provided over 5,000 children, ages 6-16, with critical support through free summer camps led by passionate college students empowered with life & leadership skills. Camp Kesem currently exists at 54 chapters in 27 states and operates off donations and community support. For more information on Camp Kesem, please visit http://www.campkesem.org, facebook.com/CampKesem, and @CampKesem on Twitter & Instagram.