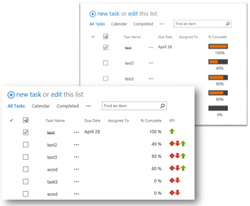 Toronto, ON (PRWEB) July 17, 2014
KWizCom, a leading provider of SharePoint Forms and Mobile Solution designed to expand Microsoft SharePoint, revealed KPI Column, a SharePoint app for Office 365 customers (SharePoint Online). KWizCom's most recent product release has specifically been developed for the Office 365 platform and catered to its unique capabilities.
This turn-key SharePoint app for Office 365 helps users to easily visualize their goals, progress and status. The clients can now better envisage their targets and current status by displaying key performance indicator icons and progress bars in their SharePoint lists and libraries.
It will be of interest to users to note that each KPI Column can be customized to display exactly as they define it, so the exact logic upon which an icon or set of icons should be displayed can be defined. By using KWizCom's KPI column SharePoint 2013 app, customers can effortlessly and quickly display clear visual indicators as part of their list views without any development.
KWizCom's KPI Column App is now available for free for a limited time only. To take advantage of this special introductory promotion and get your complimentary app, please click here.
Follow KWizCom on Twitter https://www.twitter.com/KWizCom
Become a fan of KWizCom on Facebook: https://www.facebook.com/KWizCom
Join KWizCom on LinkedIn: http://www.linkedin.com/company/kwizcom
Contact a KWizCom Account Specialist at +1-905-370-0333/+1-855-KWIZCOM or info(at)kwizcom(dot)com
About KWizCom Corporation
Since 2005, KWizCom has provided innovative solutions and services to make SharePoint even better for over 5,000 companies worldwide. KWizCom's solutions and services expand Microsoft SharePoint out-of-the-box capabilities, streamline workflow, maximize efficiency and enhance over-all productivity for hundreds of thousands of users. KWizCom, a Gold Certified Microsoft Partner, is headquartered in Toronto, Canada. Please visit www(dot)KWizCom(dot)com to find out more about KWizCom's clients, people, partners and solutions.