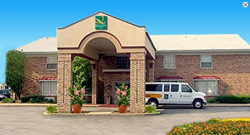 We want to innovate constantly so that we can deliver outstanding service consistently.
Saint Louis, MO (PRWEB) July 24, 2014
Greenbee Parking, a growing airport parking service in North America, has just announced further new pricing on their St.Louis airport parking rates for travelers using the St. Louis (STL) airport. In the latest upgrade to their web presence, the young service provider has introduced a whole new range of parking options for their customers in St. Louis. The young company has made quite a name for itself in a very short time, largely due to their incredible offers which are bundled with great customer service as well. They have made it easy to look for and book a secure parking spot ahead of time, completely taking away the headache and stress of airport parking from all travelers who recognize these benefits. They have been amply rewarded with not just easy booking but also great savings which could be even more with the new deals, close to 30-75% savings on an average.
"We want to innovate constantly so that we can deliver outstanding service consistently," said Christine Cooper – Marketing Coordinator, Greenbee Parking. "That is why we are constantly reviewing our own services along with other competitive offers, researching deep into the traveler psyche to understand what they want and come up with more path breaking deals for all. Our customers can expect better St. Louis airport parking rates and deals through our latest web upgrades anytime they log on to the site."
Lambert–St. Louis International Airport Parking Information
Lambert–St. Louis International Airport has a special place in American and aviation history due to its close links with Albert Bond Lambert, the Olympic medalist and Charles Lindbergh. As one of the busiest airports in the country it is known for its excellent customer service which is coupled with synchronized flights and its groundbreaking air traffic control. It is a hub for many international carriers which connect the airport with over 90 national and global destinations. Located close to downtown St. Louis, it sees over 250 daily arrivals and departures and close to 15 million passenger footfalls per year. The airport parking has seen major upgrades in recent years to keep up with the rising demand and in this they have been partnered with young service providers like Greenbee Parking. As revealed in their web upgrades, Greenbee has come up with the even cheaper St. Louis airport parking rates to make parking experiences better and more enjoyable for all.
The Greenbee Airport Parking Solution
Greenbeeparking.com is the connection between consumers and parking vacancies in close proximity to major airports and seaports. The parking spaces are very affordable because the company has negotiated discounted rates with major hotel chains for the parking spaces that are not currently occupied. Here's how it works.
Greenbee Parking puts the available inventory of parking spaces on their website to be reserved by business and leisure travelers looking for cheap airport parking. This alternative method for finding parking equates to significant savings for the traveler. You can learn more about their offers from (http://youtu.be/RWc3dqhugFA) or via the web at http://www.greenbeeparking.com.
About Greenbee Parking
Greenbee Parking is the nation's most innovative long term parking company, with a new way of making long term parking affordable. The company is rapidly adding new airports to its network.