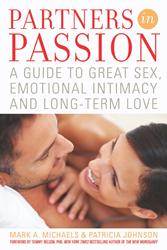 "At last! The new Holy Grail for how to keep loving passion alive."—Dr. Patti Britton, Clinical Sexologist & Sex Coach
(PRWEB) July 17, 2014
Partners in Passion: A Guide to Great Sex, Emotional Intimacy and Long-Term Love (2014) by Mark A. Michaels and Patricia Johnson has been nominated for two Readers' Favorite Awards in the categories of Self Help and Relationships.
The Readers' Favorite Awards is an annual international contest, with entries ranging from independent gems to New York Times best-sellers. Debra Gaynor founded the awards "to provide readers and authors with a resource for free quality reviews and to offer authors the opportunity to obtain more recognition and exposure through a respected annual book award contest."
Join Mark and Patricia in person at these upcoming events:
7/17: Bluestockings, New York - 7-9pm
7/18: Secret Pleasures, Washington DC
8/7: Good for Her, Toronto, Canada - 7-8:30pm
10/16: Banyan Book and Sound, Vancouver, Canada - 6:30-8pm
Partners in Passion proposes alternative models of long-term connection, founded on mutuality, a collaborative mindset, empathy and transparency. It features interviews with long-term couples and includes an extensive resource guide that covers everything from health to erotica, with excellent advice from many of today's leading sexuality and relationship educators. It is also available in audiobook.