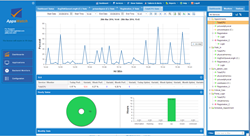 Los Angeles, CA (PRWEB) July 18, 2014
High security and instant access are necessities for attorneys and those working with legal software. Their 24-hour "on" time directly relates to how applications are expected to perform. Cases, projects, and data have to be accessible at all times with no downtime or slowdown. NRG Global, a software quality assurance firm, showcases their latest application performance monitoring tool, AppsWatch 7.7. With this update, AppsWatch provides high functionality in a secure environment while allowing for monitoring of any Windows-based application. To learn more about AppsWatch, visit here.
AppsWatch utilizes a unique front-end process in which actions and scenarios are recorded and played back just as an end-user would perform them. Cases can be retrieved and files can be updated by virtual users in the production environment with ease. Errors and failures can be seen exactly when and where they occur. Screenshots of any failures are directly e-mailed to the helpdesk team. Thus, issues are found sooner, solved with more precision, making deadlines more attainable. To download AppsWatch, get a free trial here.
In the 7.7 release, performance in high-security environments, including Citrix, has been improved. Log in and other secure actions can be performed without compromising data or violating corporate standards. Actions are recorded exactly as a user would perform them and can be automated, a rare occurrence for secure environments. Simply record the scenario or task at hand and AppsWatch can safely complete and monitor the events.
Popular applications like Citrix, SharePoint, Clio, etc. maintain usability across multiple environments, whether remote or local. With AppsWatch, firm management, case management, or any other application can be monitored on any workstation, 24 hours a day. Users in AppsWatch can be scaled up or down on the fly, without interrupting the monitoring phase allowing for applications to run more smoothly.
AppsWatch provides visibility from the end-user perspective and assists allows for proactive performance monitoring. For the legal field, proper application maintenance is invaluable. NRG Global stands behind their offering with a professional support team and consulting for complex or large projects. See exactly how a project will benefit with a free proof of concept here. To begin monitoring, get a free trial of AppsWatch here.
About NRG Global:
NRG Global's motto is that you should test software the way you use it. Their software is built from the ground up to replicate exactly how the end user interacts with the application to give you the most accurate test possible.
Their unique approach to performance testing has helped companies around the world test critical business applications. Their clients include: Capgemini, JPMorgan Chase, Baylor Health Care System, UCLA, GAP, and NASA.
For more information about NRG Global, visit http://www.NRGglobal.com.
Contact Info:
Ted Petcu
NRG Global
+1.213.234.7550
tpetcu(at)nrgglobal(dot)com