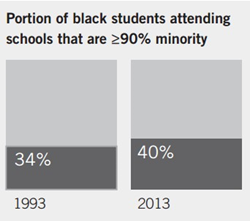 The schools that the most disadvantaged black children attend today are segregated because they're located in segregated neighborhoods far...from truly middleclass neighborhoods. We cannot desegregate schools without desegregating these neighborhoods...
Syosset, NY (PRWEB) July 23, 2014
In a report that was released a few months ago, education scholar Richard Rothstein highlights that, in order to truly combat unequal education, we need to change housing policy. More specifically, Rothstein makes the case that social and economic disadvantages must be addressed by not only examining the link between housing and education, but also by taking action to rectify the de jure residential segregation "resulting from racially-motivated public policy..." that has created a racially segregated public school system throughout the United States. In sum, the article reveals why efforts (such as those taken up by ERASE Racism) to create racially integrated neighborhoods and schools are fulfilling an obligation we must execute in order to rectify the wrongs of the past.
Since ERASE Racism's inception, we have considered our housing work as part of our education work. Racially segregated schools mirror our racially segregated neighborhoods. Therefore, as Rothstein points out in his article, the landscape of separate and unequal schools cannot be reformed without dealing with residential segregation. Whether we are advocating for stronger fair housing laws or taking legal action against discriminatory landlords (as was evidenced by the successful settlement filed before the District Court for the Eastern District of New York, Case Number 2:13-cv-04821-GRB), the results of this work have a direct impact on educational inequities.