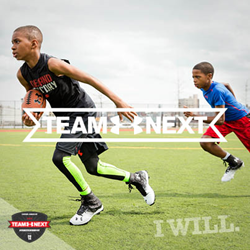 Baltimore, MD (PRWEB) July 17, 2014
Today, Under Armour, the leading performance apparel, footwear and equipment brand, announced its 1st Annual Team UA NEXT campaign to find the next generation of Under Armour athletes. Boys and girls between the ages of 7 and 12 who are passionate about sport and embody the "I WILL" spirit are called upon to compete for their spot on Team UA NEXT. The program aims to find up to six Under Armour youth brand ambassadors, while generating excitement around the brand's youth category.
The selected winners will be added to the Team UA NEXT Roster for 2014-2015 and receive an all-expenses paid trip to Under Armour headquarters in Baltimore, MD, where they will be treated to the full Under Armour brand experience of the company's elite athletes. Winners will be featured in UA NEXT marketing throughout the year.
"Under Armour is passionate about empowering athletes of the next generation with best-in-class product," says Steve Sommers, Vice President of Global Brand Marketing at Under Armour. "We are excited to see kids in sports around the globe with the same drive and grit you see in the big leagues, and our brand is there with them at the very beginning, helping them to be the best they can be. Team UA NEXT will bring that to life."
Young athletes can compete for their spot at in-person events hosted by Team UA NEXT on its national tour. Each stop will hold four physical challenges for participants, including the vertical jump, broad jump, sled push, and sprint/shuttle run, as well as a chance to explain why they deserve a spot on the roster, capturing the intangible "I WILL" spirit in each athlete. Tour stops include Sports Authority in Paramus, NJ (7/26), Dick's Sporting Goods at Roosevelt Field Mall in Long Island, NY (8/3), Academy Sports in Douglasville, GA (8/16), Hibbett Sports in Alabaster, AL (8/17), UA Factory House in Myrtle Beach, SC (8/20), and Macy's Herald Square in New York (8/24).
For those unable to attend the competition in-person, parents may mail in a submission form providing relevant information about their child, an explanation of why they deserve a spot on Team UA NEXT, and two photos as specified in the entry form. Parents can obtain an entry form at http://www.ua.com/teamuanext, now through August 31st.
To follow Team UA NEXT as the search gets underway and for the latest schedule and time information, visit http://www.ua.com/teamuanext and check out @UnderArmour on Twitter using #UANEXT and #TAKEYOURSPOT.
About Under Armour, Inc.
Under Armour, the originator of performance footwear, apparel and equipment, revolutionized how athletes across the world dress. Designed to make all athletes better, the brand's innovative products are sold worldwide to athletes at all levels. Under Armour's wholly owned subsidiary, MapMyFitness, powers one of the world's largest Connected Fitness communities. The Under Armour global headquarters is in Baltimore, Maryland. For further information, please visit the Company's website at http://www.uabiz.com.
###