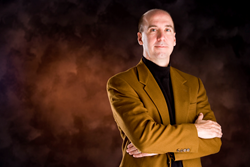 When it comes to unlearning, rule number one is: self awareness is never a finished product.
Denver, CO (PRWEB) July 18, 2014
With the fervor of the World Cup dying down, and the MLB All Star Game complete, the sports industry elite will be gathering this Thursday, July 18th, in Colorado Springs, CO., for the 2014 Sports Executive Leadership Conference (SELC). This year's SELC topic is "The Meeting of the Great Minds in Sports" and the event offers world-class keynote speakers on everything from business to economics and politics. This year's conference is bringing the world's thought-leaders to the sports industry leaders. Among the presenters chosen to address the group is futurist Jack Uldrich, who will be addressing the group with his keynote, "Why Future Trends in Business Demand Unlearning Today."
Uldrich, a best selling author and international speaker, is considered a provocative presenter on a wide range of compelling business issues such as nanotechnology and the Internet of Things, as well as global economic and political issues. He recently completed the U.S. based Verizon Wireless Technology Tour, where he spoke on how the Internet of Things will transform business in the coming years. He also regularly speaks to a variety of public and private organizations on future trends, emerging technologies, innovation, change management and leadership. His main focus for the SELC program is embracing future trends in sports through "unlearning."
"When it comes to unlearning, rule number one is: self awareness is never a finished product," says Uldrich. "Now, I'm not so presumptuous as to tell you how to think, but it is my opinion that unlearning--the awareness of old habits, and creating new ones that are both informed and empowering--is a singularly important aspect of learning. In fact, I'd go as far as to say unlearning is learning for the person who thinks for him or herself." Uldrich is looking forward to sharing his thoughts on this topic and how it pertains to embracing the future trends in the sports world at this year's 2014 SELC.
The 2014 SELC will be held at the historic Broadmoor Hotel in Colorado Springs, Colorado. Uldrich will be joined by Australia's Peter Zeihan, Harvard's Dr. William W. Li and the USAF's retired Lt. General, Mike Gould.
Parties interested in learning more about Jack Uldrich, his books, his daily blog or his speaking availability are encouraged to visit his website. Media wishing to know more about either the event or interviewing Jack as a futurist or trend expert can contact Amy Tomczyk at (651) 343.0660.