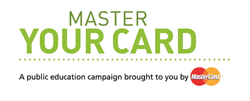 Washington, DC (PRWEB) July 17, 2014
Master Your Card today released a report that examines the high costs incurred by families that rely on alternative financial services, and found that electronic payment technology can help underserved groups overcome barriers to financial inclusion. The financially underserved in the United States – which the Federal Deposit Insurance Corporation estimates to be approximately 30 percent of the nation's population – are often forced to turn to high-cost secondary banking institutions just to access their money.
In the report titled, The Technology to Advance Equal Financial Opportunity, Massachusetts Institute of Technology (MIT) associate professor J. Phillip Thompson offers opportunities for low-income families to escape this cycle.
"For far too long, low-income communities in our country have paid a disproportionate premium for goods and services that the 'banked' often enjoy for no cost at all," said Dr. Thompson. "But electronic payment methods offer low-cost alternatives to check-cashing and payday-loan services, in addition to security and access that cash can't provide."
Underserved Americans face significant challenges to even open a bank account, including lack of money to maintain the account, inability to access a bank location, little or no credit history, and high checking account fees. These limitations have created a culture that relies on check-cashing services, payday lenders, and pawnshops for banking services. A family making $20,000 a year may spend up to $1,200 annually, paying fees and other charges to those businesses, according to the Federal Reserve Bank of St. Louis. These families could avoid these expenses by using electronic payment technology.
"Electronic payment technology is an important tool that empowers consumers lacking access to mainstream financial institutions," said Shawn Miles, senior vice president of global public policy at MasterCard and head of Master Your Card, MasterCard's public education campaign. "Professor Thompson's research study shines light on the problems of the financially underserved and reveals their economic and social hardships. This is a big challenge not only for individuals, but also for communities and our society as a whole. The report's conclusion is that technology, education, and outreach can help build financial equality – a goal we can all get behind."
In his report, Thompson examines how electronic payment technology can help the financially underserved access a broader range of goods and services, such as those available online, while increasing the security of their money. He also notes that consumer education programs designed to improve financial habits are the only way to fundamentally change underserved communities' reliance on high-fee cash services. To develop the most effective educational resources, Thompson's study recommends that companies engage with community organizations, which can transcend cultural and logistical barriers to reach the most vulnerable underserved populations.
Master Your Card commissioned the study to examine the effectiveness of electronic payment technology as a means of providing financial access for underserved communities, and to identify ways that companies can make positive changes to help low-income consumers. Throughout his career, Thompson has leveraged his more than three decades of on-the-ground experience with immigrant groups, trade unions, and urban development organizations to offer pragmatic and effective recommendations for low-income communities.
About Master Your Card:
Master Your Card is a public education campaign by MasterCard® that helps consumers, small businesses, and governments get more from their money by using prepaid, debit, and credit cards to their advantage. For more on Master Your Card, go to http://www.masteryourcardusa.org and follow on Twitter at @MYC_USA.