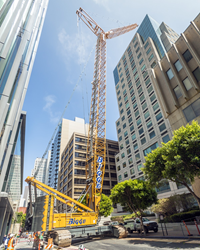 SAN FRANCISCO, CA (PRWEB) July 17, 2014
When a mechanical and electrical contractor needed a fifteen ton generator lifted more than 300 feet in one piece, at radius, on a sloped and busy San Francisco street, Bigge was the only company with both the technical expertise and equipment to handle the job. As always, Bigge delivered, completing the job in an even tighter time window than was originally planned and permitted.
The job required a generator lifted over 300 feet and placed at the top of a building. Not only did the job require the generator be lifted in one piece, but the location of the building was at Hawthorne and Harrison in San Francisco, a densely packed South of Market neighborhood. Because of the requirements of the job, the only crane that could make that lift would be a large capacity crawler, which is nearly impossible to both assemble and operate on narrow San Francisco streets. Further complicating the lift, because of the age of the building where the generator was to be lifted, instead of working with detailed plans as to where the generator would be seated, they'd be working from mere sketches of the building more than 75 years old.
Fortunately for the client, Bigge has a near century of experience specializing in these kinds of impossible jobs. To perform the lift, Bigge employed its newest Liebherr LR1300, along with three crews to make the most of the time it had to perform the lift. Friday evening, with the assistance of the SFPD, Bigge shut down Hawthorne Street for three blocks, while two assist cranes prepared and built the Liebherr LR1300 to make the pick. Bigge had an 80-ton RT put the treads and counterweight on the crane, while another 50-ton capacity RT laid out and assembled the boom and jib.
Once the crawler was assembled, a process taking nearly twelve hours, the slope of the street was leveled with crane mats, and the crane was walked forty feet to the site of the lift. Bigge's second crew worked all day Saturday performing the lift, while its third broke down the crane in less than eight hours, working through the night Saturday, which allowed the streets to reopen ahead of schedule Sunday morning.
"At Bigge we have a saying 'the difficult we do immediately, the impossible takes a little longer,'" said Joe Nelms, Vice President of Sales & Marketing, "Here, we were able to take on a job our competitors couldn't and complete it in 36 hours. I'm extremely proud of all of our guys."
ABOUT BIGGE:
Bigge's crane rental fleet has more than 500 machines, including 31 Liebherr LR 1300 crawlers, more than any other company in the world. Available as both bare lease and operated and maintained rentals, Bigge provides dedicated project managers, factory trained technicians, and engineering and field support for all jobs. Bigge has thirteen locations nationwide, in addition to a strategic network of service locations.