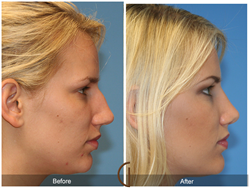 Whether a person opts to have rhinoplasty performed to improve their appearance, or they choose a Septoplasty procedure that allows them to breathe easier and sleep better, they won't regret taking advantage of the opportunity to improve themselves.
Newport Beach, CA (PRWEB) August 05, 2014
Orange County residents are deciding that summer is the perfect time to have Rhinoplasty, Septoplasty and sinus procedures performed. With plenty of time for nose surgery recovery, patients have found that summer is an ideal time for cosmetic change to their nose or to fix breathing and sinus problems.
Dr. Kevin Sadati, an expert and experienced nasal surgeon, based out of Newport Beach notes that there are many different cosmetic procedures that are rising in popularity this year.
"Whether a person opts to have rhinoplasty performed to improve their appearance, or they choose a Septoplasty procedure that allows them to breathe easier and sleep better, they won't regret taking advantage of the opportunity to improve themselves. Summer is a wonderful time of year to have nose and sinus procedures, because patients typically have the time to devote to a full and complete recovery," explains Dr. Kevin Sadati.
What Is This Summer's Most Popular Cosmetic Nose Procedure?
Rhinoplasty, often referred to as a nose job, has long been one of the most desired facial plastic surgery procedures among younger patients and older adults that are looking for cosmetic changes to their nose. An expert and highly experienced facial plastic surgeon that specializes in nasal surgery can create a customized, natural looking nose to fit a patients face and ethnicity.
A bump on the bridge of the nose can be reduced to make the nose straighter, or a nasal tip can be refined to make a bulbous or droopy tip smaller. A wide nose can even be narrowed to have a more defined, slimmer and normal looking nose shape. Nose jobs can also be specialized, such as male rhinoplasty that improves the appearance of a man's nose without diminishing the dominant features of the male face.
Another example would be ethnic rhinoplasty, which aims to improve the appearance of a person's nose without eliminating the natural beauty of a person's ethnic characteristics. Rhinoplasty can also be performed on teenagers once their nose has become fully developed. Many teens find that summer vacation is the ideal time for them to have nose surgery since they have a few months of school for proper rhinoplasty recovery.
What Cosmetic Non-Surgical Nose Procedures Are Available?
Non-surgical rhinoplasty can provide patients with similar results to a nose job, without the lengthy rhinoplasty recovery time. For this non-invasive cosmetic procedure, Dr. Kevin Sadati uses dermal fillers, such as RADIESSE® in order to improve the appearance of a patient's nose.
Results from non-surgical rhinoplasty can last up to two years depending on the individual. Once the patient's body has metabolized the dermal filler another non-surgical nose job will need to be performed in order to maintain results. There is no down time associated with this nose procedure and non-surgical rhinoplasty cost much less than a full rhinoplasty surgery.
What Are The Most Advanced Sinus Surgery Procedures That Can Help With Sinus Pain and Sinus Pressure?
For severe sinus issues, patients may need to look into sinus surgery options. Functional endoscopic sinus surgery has been around for a long time as a solution to many debilitating sinus issues. Sinus surgery can remove nasal polyps, and open a patient's sinus passageways in order to clear up chronic sinusitis infections.
Septoplasty helps patients to breath better, improve sleep apnea and reduces snoring. If a patient has a deviated septum, septoplasty is often performed in combination with sinus surgery. A patient may have been born with a deviated septum or obtained it from a nose injury such as a broken nose. The combination septoplasty and sinus surgery is sure to improve the overall well being of a person's life who has suffered from breathing issues, obstructive sleep apnea or other persistent sinus issues.
What Non-Surgical Sinus Procedures Can Fix Recurrent or Chronic Sinusitis?
Chronic sinusitis is a persistent sinus infection of the sinus cavities, while recurrent sinusitis is a sinus infection that continues to return. Both types of sinusitis can cause debilitating symptoms, including fever, fatigue, sinus pressure, sinus pain and congestion. Balloon sinus dilation, also known as Balloon Sinuplasty ™, is a minimally invasive procedure that can be performed in the doctor's office.
This procedure uses a simple balloon catheter to widen the sinus passageways helping draining infection and inflammation from sinuses. This has taken the place of traditional FESS, or functional endoscopic sinus surgery, which is only performed in the O.R. with the use of general anesthesia causing a longer sinus surgery recovery for patients. Balloon sinus dilation recovery is quick and the day after the procedure the patient can return to normal activities.
Patients who are interested in any of these nose or sinus procedures are invited to set up an exam with board certified ENT and facial plastic surgeon, Dr. Kevin Sadati. Dr. Kevin Sadati can discuss the patient's individual situation and help the patient to decide which procedure is the best choice for them this summer.
To find out more information about popular nose procedures within Orange County, contact Dr. Kevin Sadati's office today at 949-706-7776 or visit http://www.galleryofcosmeticsurgery.com.