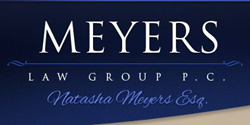 Huntington, NY (PRWEB) July 17, 2014
Divorce Saloon® International has recognized Natasha Meyers as one of the top female divorce lawyers in New York City through its 2014 list of "The Titans 10." Not only has this Long Island divorce attorney made it onto the list, but she has been given the No.1 spot. Recognizing 10 female attorneys and 10 male attorneys in total, the divorce blog states that it lists "20 bad-ass New York City divorce lawyers." Attorney Meyers is the founding member of The Meyers Law Group, P.C, which serves clients throughout Nassau and Suffolk counties in New York.
According information provided with The Titans 10 list, Divorce Saloon notes that it turns to various sources in order to identify the top-rated divorce lawyers in the New York City area. Some of these sources include Forbes, the New York Law Journal, New York Magazine, Super Lawyers®, the American Bar Association, Martindale-Hubbell®, Avvo and Google+, among others. In the selection process, Divorce Saloon considers a number of different aspects of the attorney's career, such as the legal professional experience level, client reviews, peer reviews and endorsements, publications, experience engaging with the media, etc. The divorce blog notes that the legal professionals who are honored on The Titans 10 list tend to be those who are experienced and aggressive attorneys who strike fear in their courtroom opponents, but who are also known for the high quality of support they provide for the client.
Attorney Meyers assists her clients with many different types of divorce, as well as with a wide range of other family law matters. She focuses her law practice on matrimonial and family law, corporate/business law, real estate transactions and civil litigation. She has certifications that qualify to provide basic mediation, divorce mediation, child support mediation and parenting plan mediation. She is also qualified to serve as an Article 81 court evaluator, an Article 81 guardian, Article 81 counsel for the AIP, and an Article 17 and 17-A SCPA guardian. Ms. Meyers is admitted to practice law the state courts of New York, as well as or the U.S. District Court's Southern District of New York and Eastern District of New York. She speaks English, Russian and Polish.
As a full-service family law firm, New Yorkers can turn to The Meyers Law Group for assistance with a wide array of family-related legal issues. Whether individuals are looking to end a marriage, win a child custody battle or deal with an incident involving allegations of domestic violence, they can turn the Long Island law firm for steadfast legal support. Additional information about The Meyers Law Group can be found at http://www.bestnewyorkdivorce.com.