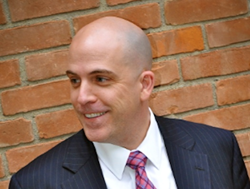 San Jose, CA (PRWEB) August 19, 2014
Empowered buyers are demanding price decreases, discounts and deals from sellers, and the temptation to cave to buyer demands is a short cut many sales professionals take. But not anymore.
On August 23rd at 9:00 AM PDT, world renowned sales thought leader Anthony Iannarino will share with CONNECT! Online Radio Show for Professional Sellers his expertise and knowledge, and teach listeners how to defend their price in the face of buyer opposition. This popular speaker and blogger has worked with many Fortune 500 companies, and publishes one of the biggest sales blosg in the world, "The Sales Blog." Sellers looking for a way to strengthen their position should tune in to hear from this influential expert.
Your program host, Deb Calvert, will conduct the interview with Iannarino, incorporating questions submitted beforehand and live by listeners. The CONNECT! Online Radio Show for Selling Professionals is dedicated to helping sellers connect with buyers so they can cut out continuances, put an end to pending and stop stalling out.
To submit questions for Iannarino and Calvert before the live broadcast, send an e-mail to deb.calvert(at)peoplefirstps(dot)com. To join the live broadcast where listeners can submit live-time chat questions or call in to appear live on air, go to the show's website.
An archived version of this program will be available after it airs at the iTunes Store CONNECT1 or at the website listed above.
CONNECT! Online Radio for Selling Professionals is sponsored by People First Productivity Solutions, a sales training firm dedicated to building organizational strength by putting people first. Deb Calvert, founder and president of PFPS, formed the CONNECT! Community to support sellers at all stages of their selling careers.