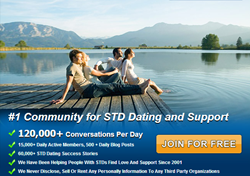 Los Angeles, California (PRWEB) July 17, 2014
As per the World Health Organization, there are hundreds of millions of people living with STDs around the world. Due to the disparity in consistent and effective prevention efforts, there are places with more people suffering from STDs compared to other corners of the globe. In a recent release by one of the world's top STD dating sites, PositiveSingles.com, which is geared toward helping those with STDs find their lifetime partners, it has been stated that California represents the top state with members who are living with sexually transmitted diseases.
This announcement comes as a surprise to many people from all around the world, but quite a high jump in the number of people living with STDs was noticed in California in the year of 2013 according to the report on latimes.com. The numbers stated that there are far more people who live their everyday lives with an STD when compared to other states. The list also includes other states where the number of people living with sexually transmitted diseases is high. In order, they are Texas, Florida, New York, Georgia, Illinois, Ohio, Pennsylvania, North Carolina, and Washington.
"Our membership data further emphasizes that there are no areas of the world or classes of individuals who are unaffected by sexually transmitted infections and diseases," said PositiveSingles.com Spokesperson, Jenelle Marie. "And while the number of those who have a long-term infection might, at first, seem bleak, regardless of their prevalence, most people manage to live happy, prosperous lives and are even able to find the love of their life thanks to the help offered by sites such as PositiveSingles.com."
About PositiveSingles.com
With time, PositiveSingles has become the world's biggest dating community for those who are living with just about any type of STD. Their success is thanks to the fact that the company respects its users, and very good care is taken to protect the privacy and anonymity of all members while also bringing an intuitive and easy to use site design together for men and women from all over the world.
Media Contact:
Jenelle Marie
mediapress(at)successfulmatch(dot)com
Spokesperson of PositiveSingles.com