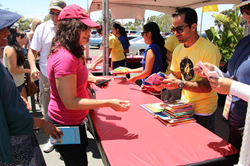 Costa Mesa, California (PRWEB) July 17, 2014
The OC Early Literacy and Math Program will receive children's books that will be donated in lieu of the entrance costs to the Orange County Fair on Wednesday, July 23, from 12 noon to 3pm.
Last year, 63,794 children's books were collected as part of the OC Fair's "We Care Wednesday" promotion and distributed to young children to promote early literacy. Orange County Fairgoers who arrive between 12 noon and 3 p.m. will receive free Fair admission and a carnival ride with the donation of one new or three gently used children's books during the annual children's book drive.
The 2014 OC Fair, themed Summer Starts Here, runs July 11 – Aug. 10 for 23 days of food, rides, exhibits, animals, music, action sports and fun. Those attendees who participate in the children's book drive will get a day full of fun at the Fair and contribute to early literacy and learning at the same time. Last year's book donations had an in-kind value of more than $150,000 and were used to replenish Orange County's Book Bank of children's books.
"We are very proud of the opportunity we provide for the community to give back through our We Care Wednesday program," said Doug Lofstrom, OC Fair CEO. "The book drive is a win-win for the community. Last year's numbers - more than 63,000 books donated - speak for themselves. We look forward to a repeat at this year's book drive with THINK Together on July 23 here at the 2014 OC Fair."
The largest recipient of the books will be the OC Early Literacy and Math Program. Books go to schools and preschools, Boys and Girls Clubs, doctor office waiting rooms and many other places where children have a chance to take a book home and build their own library.
"Research shows that children who are read to early often are more prepared when they start kindergarten," said Dr. Maria Minon, Chair of the Children and Families Commission. "When they start school on track, children are more likely to be reading proficiently by third grade, and to reach their full educational potential. One way to help is to get books into the hands of children, and this book drive does just that."
A total of 217,543 new or gently used children's books were distributed from July 2013 through May 2014 through the Orange County Early Literacy and Math Program. The books collected at the OC Fair make up a significant part of that total.
"We thank the OC Fair and the Children and Families Commission for once again partnering with us in our goal of creating opportunities for all kids to discover their passions and reach their full potential," said THINK Together Founder and CEO Randy Barth. "These book drives allow us to distribute much-needed books to children which helps them and their families build a brighter future through literacy."
The fair annually gives out an average of 20,000 tickets for its We Care Wednesday promotions. In addition to the book drive, We Care Wednesday events include a food drive (July 16), a clothing drive (July 30) and a school supply drive (Aug. 6), all sponsored by the OC Fair. More information can be found at The OC Fair & Event Center located off the 405 and 55 freeways at 88 Fair Drive in Costa Mesa. For more information, please visit ocfair.com, become a fan at Facebook.com/OCFair, follow at twitter.com/ocfair or call (714) 708-1500.
About the Children and Families Commission of Orange County
The Children and Families Commission of Orange County oversees the allocation of funds from Proposition 10, which added a 50-cent tax on tobacco products sold in California. Approximately $31 million was allocated last year to fund programs that served more than 196,000 young children. Funds help pay for early education, pediatric primary and specialty health care, children's dental, homeless prevention, and child development programs for children from birth to age 5 and their families. The Commission's goal is to ensure all children are healthy and ready to learn when they enter school. For more information, please visit http://www.occhildrenandfamilies.com.
About THINK Together
THINK Together is a nonprofit organization collaborating with communities, parents and other stakeholders to transform and galvanize the K-12 educational system, creating excellence and equity for all kids. We Teach, Help, Inspire and Nurture Kids to reach their full potential. It has grown into the state's largest provider of Expanded Learning Time programs (early literacy, after-school, summer learning, etc.), currently serving more than 100,000 students at more than 442 locations across 41 school districts from San Diego to Silicon Valley. Partnering with school administrators and teachers, its academic programs and dedicated team of 3,000 employees are helping students statewide. THINK is an acronym: Teaching, Helping, Inspiring & Nurturing Kids. For more information, call (888) 485-THINK or visit http://www.THINKtogether.org, http://www.facebook.com/THINKtogether.