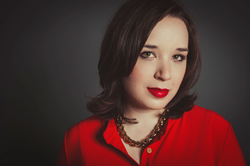 New York, NY (PRWEB) July 18, 2014
Jazz saxophone player Jordan Pettay, who appears regularly on Friday nights at 10pm at Moscow 57 on Delancey, the Russian Central Asian boite with live music nightly, will be performing with her quartet on Friday, July 25th at 10pm. The other members of her band are David Linard on keyboard, Jimmy MacBride on drums and Luke Sellick on bass.
Jordan just received her master's degree in Jazz Studies, which was the culmination of her 6 years spent at Juilliard. "With this chapter of my life closing, and new doors opening, I am looking forward to starting work on new projects, including my debut recording as a leader to be released in spring of 2015," said Pettay.
ABOUT JORDAN PETTAY
Jordan Pettay is a New York-based jazz saxophonist, composer and educator.
She has had the privilege of performing with artists like Herbie Hancock, Christian McBride, Terence Blanchard, Joe Lovano, and Benny Golson among others, and has traveled worldwide throughout North America, Central America, Asia, Europe, and Australia performing and teaching.
Jordan most recently returned from a week-long residency at the Guiseppe Verdi Conservatory in Torino, Italy in conjunction with the Torino Jazz Festival, where she conducted master classes at the conservatory and performed on the main stage of the festival. In late June, Jordan joined forces with the New York Jazz Symposium, a company started by educator and drummer extraordinaire Carl Allen, to conduct workshops in Melbourne, Australia.
Born in Wichita, Kansas but raised in the suburbs of Ft. Worth, Texas, Jordan began playing the alto saxophone at the age of 11 and quickly caught the jazz bug after being exposed to recordings of Duke Ellington and Charlie Parker and having a series of gifted and passionate teachers who inspired her to pursue music.
Jordan attended Booker T. Washington High School for the Visual and Performing Arts in Dallas, where she toured nationally with groups under the direction of Bart Marantz and won a number of Downbeat Student Music Awards. As a senior in high school she was selected as lead alto in the Texas All-State Jazz Band. In 2008, Jordan moved to New York City to continue her musical training at the Juilliard School and studied under the tutelage of Ron Blake, Steve Wilson, Carl Allen, Rodney Jones, and others. While at Juilliard, Jordan had the distinct honor of being awarded the inaugural Gerry and Franca Mulligan Scholarship.
Since her arrival i New York, Jordan has had the opportunity to perform with her own band at Dizzy's Club Coca-Cola, and has appeared as a sideman at such venues as The Appel Room (formerly the Allen Room), Rose Theater, the Iridium, Smoke, the Jazz Standard, and the Blue Note. In 2011, Jordan made her Radio City Music Hall debut, performing with country music star Trisha Yearwood. Jordan has also had the unique opportunity of playing the national anthem for an NFL football game at NY Giants Stadium.
ABOUT MOSCOW 57
Moscow 57 on Delancey is a Russian Central Asian boite from a New Yorker's perspective, with live music nightly. Owner Ellen Kaye's parents, Faith Stewart-Gordon and Sidney Kaye, owned the Russian Tea Room from 1947 to 1996.
Moscow 57 is producing M57 Straight from Delancey, a new radio show Sunday nights on WVOX- AM/WVIP-FM beginning late August 2014.
Moscow 57, the hospitality and entertainment company, was launched several years ago by partners Kaye, Seth Goldman and Ethan Fein.
For the past two years, the company has been hosting its M57 Urban Salons, evenings of music, food and digital visual art displays, in Harlem, Washington Heights, Chelsea, the Upper East Side, the East Village, Governors Island, New Milford, Connecticut and New Orleans. Moscow 57 has made New Orleans a home away from home, with regular forays into that city's world-renowned culture of Southern hospitality, regional cuisine, and world-class entertainment. After performing at and co-producing events with New York's Corcho Wine Room, as well as celebrating Latin American culture in New Orleans, this cosmopolitan attitude is being brought to Moscow 57's permanent home on New York City's Lower East Side every night.
Moscow 57 Entertaining, created in partnership with Ethan Fein, is developing projects for film, television and theater. Its music company produces podcasts, live performances, recordings and videos. Moscow 57's first CD releases have already garnered national radio airplay, and the company's videos can be seen on the Moscow57Entertaining YouTube channel. The company's M57 podcast will be streaming live on Sunday nights.
Jordan Pettay Jazz Quartet
Facebook Event Page:
https://www.facebook.com/events/418602468280342/
Jordan Pettay on our M57 Blog page:
http://moscow57blog.wordpress.com/m57-artists/jordan-pettay/