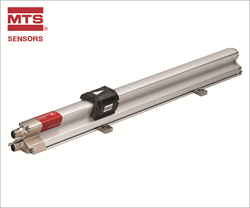 Cary, NC (PRWEB) July 17, 2014
MTS Systems Corporation (NASDAQ: MTSC), a leading global supplier of test systems and position sensors, has introduced the Temposonics® A-Series "Duo" Linear Encoder for manufacturers that need more robust position and velocity control in electric and linear motors. The new sensor includes both an incremental interface and absolute Synchronous Serial Interface (SSI) output in a single sensor housing.
"The A-Series will enable the use of advanced magnetostrictive linear positioning in applications where it hasn't been feasible in the past," explained Matt Hankinson, MTS Sensors Technical Marketing Manager.. "These include applications in which absolute position feedback is needed while maintaining an incremental encoder signal for the motor position."
When compared to traditional products used in these applications, such as optical encoders, the A-Series offers several significant advantages, including improved shock and vibration resistance, low failure rates, and easier/less expensive design and installation.
The A-Series offers two output channels. The incremental interface (either TTL quadrature or 1 Vpp sin/cos) provides position and velocity feedback for the motor, while the SSI output provides absolute linear position of the sensor. Absolute positioning means there is never a need for calibration or reference moves after a power cycle. Combined with the non-contact sensor technology used in all MTS Sensors' products, this can dramatically decrease installation and maintenance costs in these applications.
Hankinson commented, "Working with our customers, there are numerous applications where the A-Series offers significant value above the other linear encoder options. In those applications where magnetostriction can meet accuracy requirements, the added ruggedness and reliability of the A-Series products will help machine builders design systems that require less maintenance and can operate in more demanding environments."
Additionally, the A-Series can also help manufacturers lower their operating costs. The Temposonics technology used in the A-Series does not require air plumbing, covers or moving cables, making these encoders easier to install and maintain. With magnetostrictive position sensors, there are no requirements for periodic cleaning or calibration.
For more information, please contact: MTS Systems Corp, Sensors Division, 3001 Sheldon Drive, Cary, NC 27513. Phone: (919) 677-0100. E-mail: info(dot)us(at)mtssensors(dot)com or visit their web site at http://www.mtssensors.com.
MTS Sensors is a global leader in sensing technologies and solutions that enable feedback control for automation and safety applications. MTS Sensors, a division of MTS Systems Corporation, serves its global customers with a focus on regional support to provide innovative and reliable sensing solutions. Through its research, development and production of various products, MTS offers a large selection of sensor designs, outputs, performance levels and technologies to fit your application needs. MTS' industrial sensors are commonly used for factory automation, fluid power, energy production markets as well as wood, metal, plastic and glass applications.
###