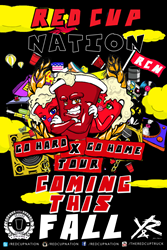 Go Hard x Go Home ups the ante like never before. Are you ready to really go hard?
Los Angeles, CA (PRWEB) July 17, 2014
North America's foremost organizer and producer of college parties and events, RED CUP NATION, proudly unveils this summer's RED CUP NATION & FRIENDS Go Hard x Go Home festival tour. The jaunt officially kicks off at ASU on August 29th, 2014 and touches down at the hottest college campuses and cities across the United States, heating them up even more in the process.
So, even if you aren't in college anymore, you can have that mythical "college experience" everybody yearns for or hilarious movies are made of. RED CUP NATION has assembled a knockout traveling festival that brings together electronic dance music, hip-hop, and a whole lot of partying, to create a night driven by dope DJs, dancing, and surprise guests. It's the ultimate college party.
The Go Hard x Go Home tour is the brainchild of RED CUP NATION founders Perry and Matt who initially met at college in Florida and possessed a shared passion for music and throwing parties. They decided to turn passion into a profession by envisioning and executing campus celebrations like no other.
First, they launched a web site as the hub for their company. RedCupNation.com gives college students a constantly updated stream of information about what's happening in sports, music, fashion, politics, and lifestyle. Moreover, they bring the experience wherever they go with the "Red Cup Truck" a mobile good time on wheels. Already, they have launched a series of major cross-country college tours featuring top DJ's and garnering countless fans as well as a sizable social media imprint. Now, they're one of the most sought-after campus entities.
If you want to appeal to the college market, RED CUP NATION is the perfect channel. Their revolutionary truck gets the word out and they know what the students want.
However, Go Hard x Go Home ups the ante like never before. Are you ready to really go hard?
Purchase your tickets here: https://www.purplepass.com/#3910.
Go Hard x Go Home Tour Dates:
ASU 8/29
U of A 8/30
Colorado 9/4
Denver 9/5
Colorado State 9/6
Wisconsin 9/11
Iowa 9/12
Iowa State 9/13
Lockhaven 9/20
Penn State 9/25
NC State 9/26
East Carolina 9/27
VA Beach 10/2
James Madison 10/3
U of VA 10/4
Clemson 10/9
South Carolina 10/10
Charleston 10/11
Georgia 10/16
Georgia Tech 10/18