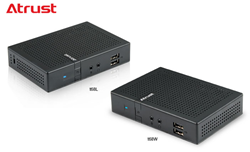 Taipei, Taiwan (PRWEB) July 18, 2014
Atrust t68L adopt Intel® Bay Trail Quad Core 1.83GHz CPU and Linux OS
Atrust t68L adopts the Intel® Bay Trail quad core 1.83GHz processor, 1GB DDR RAM and 4GB flash memory and runs Atrust in house Linux OS. Atrust t68L Linux-based thin client which allows a low level of power consumption and brings user a cost-effective solution with multimedia acceleration experience.
Atrust t68W features Intel® Bay Trail Dual Core 1.46GHz CPU and Microsoft Windows® Embedded Standard 8 OS
Atrust t68W features the Intel® Bay Trail dual core 1.46GHz processor, 2GB DDR RAM and 8GB flash memory and runs Microsoft Windows® Embedded Standard 8 OS. Atrust t68W delivering powerful performance with reliable desktop experience. Fluent graphics with smooth HD video playback and internet streaming are offered in the virtualized environment as well.
Both t68L and t68W support single display with one DVI-I port, up to 1920 x 1200 resolutions.
Industry-Recognized Virtualization Environments
Atrust works hard with its partners, such as Citrix®, VMware® and Microsoft®, enabling its hardware and software solutions better operated in major protocols. The t68L and t68W support numerous protocols, such as VMware® Horizon View™, Citrix® XenDesktop™, Citrix® XenApp™ and Microsoft® RDP™ with RemoteFX™. With the support of these industry-recognized protocols, the t68L and t68W can provide a rich, efficient and local computing experience for remote users.
Both t68L and t68W support up to 4 USB ports for commonly used peripheral connectivity. Weighing less than 300g, the compact design of Atrust t68L and t68W give you the power you need under a secure virtualization environment. Organizations that are looking for high-performance computing with limited budget can be benefited from their design. For more information, please contact Atrust sales at sales(at)atrustcorp(dot)com.